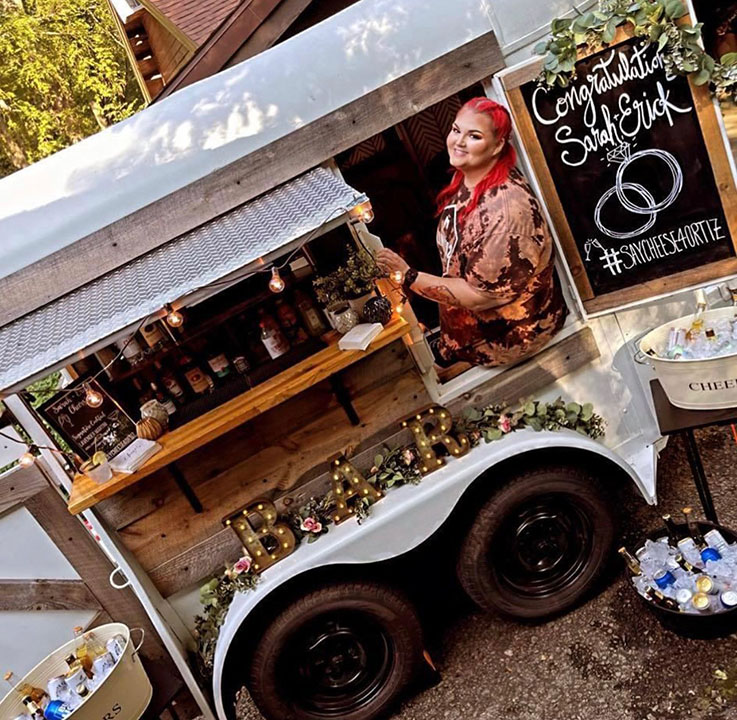 IUP Academy of Culinary Arts graduates are going places, and some are even going in a food truck! Kala Vargo, a 2019 Culinary Arts alumna, has always dreamed of running her own business and operating a food truck. That dream became a reality in the form of a vintage mobile bar, named Magnolia.
Kala, along with her cousin, Garrett Horrell, and his wife, Cassie, are the co-owners of Clink '92. Clink '92 is run out of a 1975 Vintage Horse trailer that has been converted into a mobile bar. Magnolia, the name of their vintage trailer, can be rented for private events such as weddings, but can also be found at local farmer's markets, street fairs, and other outdoor events.
Magnolia and Kala came to campus recently to share with current students about the mobile bar business during their morning lecture class, Wine Appreciation and Beverage Management, taught by Chef Erin Reed. Students were given the opportunity to sample hot cider, hot chocolate, and delicious pastries out of the mobile trailer.
For more information, visit the Clink '92 website.