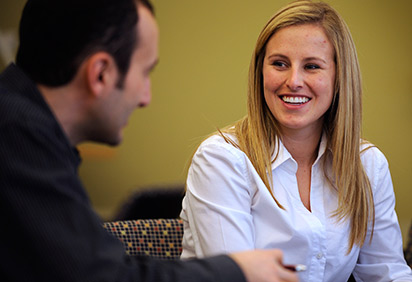 Making Degree Progress in Your Criminology PhD
The PhD program in criminology is designed to be completed in approximately three to four calendar years of full-time study beyond the master's. The curriculum requires a minimum of 54 semester hours of acceptable graduate credit. Each student must complete requirements for (a) coursework; (b) special proficiency requirements; (c) qualifying exams; (d) skill requirement, if needed; and (e) dissertation.
Required Course Work
Core Courses (21 semester hours):
CRIM 810 Advanced Theoretical Criminology, 3 credits
CRIM 817 Advanced Qualitative Methods, 3 credits
CRIM 818 Quantitative Strategies for Analysis in Criminology, 3 credits
CRIM 820 Advanced Quantitative Methods, 3 credits
CRIM 830 Ethical and Philosophical Issues in Criminology, 3 credits
CRIM 840 Advanced Criminal Justice Policy, 3 credits
CRIM 851 Doctoral Colloquium in Criminology, 3 credits
Criminology Electives:
Six semester hours minimum
Advanced Applied Research:
Nine semester hours minimum
CRIM 901 Advanced Applied Research I
CRIM 902 Advanced Applied Research II
CRIM 903 Advanced Applied Research III
Other Electives:
Six semester hours from Criminology or related disciplines
Qualifying Examination: Upon completion of 18 semester hours, a student must take qualifying examinations in core subject areas. After successful completion, a student may proceed towards fulfillment of remaining degree requirements.
Comprehensive Area of Specialization Competence Review: Areas of ConcentrationEach student must decide upon one subspecialty within criminology. Upon consultation with the student, the student's advisory committee, and the doctoral coordinator, a proficiency review will be conducted.
Skill requirement: (0-6 semester hours) A deficiency in this area may be remedied by completing one of the following alternatives:

Foreign language competency
Computer
Advanced statistics
Advanced research methods
Other appropriate areas as approved by the doctoral coordinator
Further details regarding any of these skill requirements can be obtained from the doctoral coordinator.
Dissertation: In accordance with university guidelines, successful completion of a doctoral dissertation is required (12 semester hours).
In short:
Average Transfer Credit from MA: 6
Course Credits: 36
Dissertation Credits: 12
Total Minimum Number of Credit Hours Required: 54