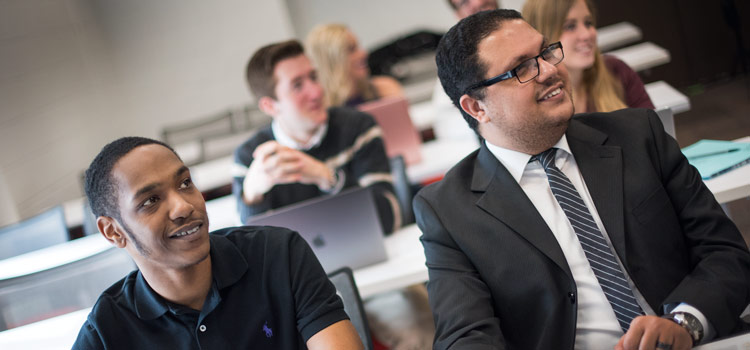 The application is your first tangible step in becoming a student in IUP's MS in Strategic Communication program. Learn about the requirements and details of the application process to enter the program and enhance your credentials.
Application Requirements
If you are interested in earning your strategic communication master's degree at IUP, please be prepared to submit the following materials for our evaluation:
$50 application fee, paid online with your application form.
Official transcripts of all undergraduate courses completed. IUP students and alumni will not need to provide their transcripts.
Two letters of recommendation from professional or academic references.
A goal statement that details your reasons for earning the degree.
A rsum or curriculum vita.
We will only accept applicants who have completed their bachelor's degree at the time their graduate-level courses begin, and who have earned a 3.0 grade point average in their studies.
You can submit most of the above materials through your IUP Admissions Profile. Please send your official transcripts directly to our graduate admissions office at
IUP Graduate Admissions
Indiana University of Pennsylvania
1011 South Dr.
Sutton Hall 120
Indiana, PA 15705
Once you submit all application materials, you can expect to hear from the department with an admission decision within four weeks. For any questions about your application or submitting materials, please contact our graduate admissions office directly at graduate-admissions@iup.edu or 724-357-2222.
Early Admission for IUP Juniors
If you are a current student earning your bachelor's degree at IUP, you are in luck. In addition to not having to send in your transcripts, you might also be able to take advantage of our internal early admission program.
IUP juniors who have completed at least 90 credits toward their bachelor's degree are eligible to apply for the MS in Strategic Communication, and begin taking graduate-level classes during their senior year. These classes will count toward both your bachelor's and master's degree completion, saving you valuable time and money.
Only students who have a 3.25 GPA at the time of application will be able to apply for early admission. Learn more about the policy on our graduate admissions website, and speak with your undergraduate advisor to start the process.
Application Deadlines and Starting Terms
The MS in Strategic Communication does not have an application deadline. Instead, we accept students on a rolling basis, meaning that you can apply shortly before the summer or fall semester begins and still be considered for admission.
However, we anticipate considerable demand for this program, which is why we encourage early applications. We can only accept a limited number of students each year, so submit your application early in order to secure your seat.
Applying early also increases your chances of financial support through a graduate assistantship (GA). We award GA positions competitively, providing recipients with tuition relief and a stipend while building practical experience within the Communications Media Department.
Full-time students should apply for the summer semester, which enables them to earn their degree within 14 months at the end of the following summer. Part-time students can enroll during either the summer or fall semester and establish their own pace of degree completion.
Questions About the Application Process
If you have any questions about the program or application process, we would love to help.
For questions related to the application process, please contact our Graduate Admissions office at graduate-admissions@iup.edu or 724-357-2222.
For questions about the program itself and graduate assistantship opportunities, please contact:
Dr. Vicky Ortiz
Program Coordinator and Professor
MS in Strategic Communication
Phone: 724-357-3210
Email: vortiz@iup.edu