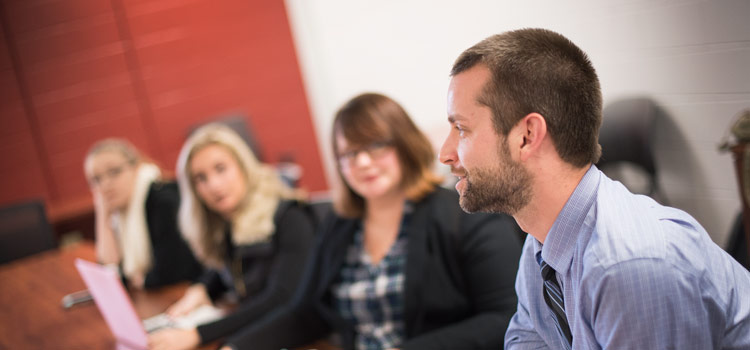 A master's degree in strategic communication can be the foundation for a successful career. The distinctive emphasis that our Master of Science program provides helps you set yourself apart from other professionals.
How Your Master's Degree Accelerates Your Career
The need for master's degrees in communication-related fields continues to grow. According to the National Center for Education Statistics, more than 25 percent of public relations and marketing professionals hold a master's degree. Within these fields, CBS News reports that professionals with a master's degree in communication earn almost 20 percent more annually than those with only a bachelor's degree.
The reason for these benefits is closely related to the skills you will gain in this program. A 2015 NACE survey reported that three of the most important skills employees seek when hiring candidates are:
The ability to communicate with people inside and outside an organization,
The ability to create and edit written reports, and
The ability to sell and persuade others.
Meanwhile, a study by Georgetown University found that the biggest skill lacking in job applicants today is the ability to write and communicate effectively, along with research and digital communication skills.
Our master's degree can help you build these skills. Building the ability to research, write and produce strategic communication messages makes this program unique. Thanks to that emphasis, it prepares its graduates for careers in virtually any industry including education, politics, safety science, business and the rapidly growing health communication field.
"Marketing communications is becoming ever more strategic, integrated, metric driven, and outcome focused. This degree will enable graduates to systematically overcome business challenges to meet their organizations' objectives."
Daniel Sprumont '10, M'11, Senior Digital Strategist at Highmark Health
Prepare for Success in Growing Industries
An MS degree in strategic communication also enhances your career prospects because of the recent and future growth of the fields for which you will be most prepared:
According to the US Bureau of Labor Statistics, Pennsylvania is in the top 10 of all states in the number of public relations and promotions professionals employed.
Job growth for public relations specialists is anticipated to grow in Pennsylvania 2 percent more than in the rest of the country.
Pittsburgh and its surrounding area are employing more communication professionals than any region within Pennsylvania outside of Philadelphia.
Industries hiring professionals with a communication background include manufacturing, healthcare, higher education, financial services, and technology.
Job opportunities within the region are not limited to digital media, public relations, or media. A 2017 study found that broadcasting and telecommunications combine to be the largest industry in Pennsylvania, growing 30 percent over five years to generate $37.5 billion in revenue.
Prepare for Doctoral Studies in Communication
The benefits of our master's degree are not limited to the workforce. Instead, the program serves as the perfect bridge if you are earning or have earned your bachelor's degree and want to pursue doctoral studies.
Our research track can bridge that gap by helping you build your skills in researching and analyzing data, using qualitative and quantitative methods. You will also learn how to:
Analyze organizational communication needs,
Integrate written and verbal messages with digital media production, and
Utilize critical thinking and argumentation to construct strategic messages.
Finally, you will be able to apply your learning throughout the field of strategic communication in a comprehensive thesis research. By the time you graduate, you will be ideally prepared to begin your studies in a PhD or other doctoral-level program.