Professor Ben Ford was recently awarded an IUP Academic Computing Policy Advisory Committee Innovation Grant to purchase photogrammetry software and hardware.
Photogrammetry is the construction of three-dimensional digital models from digital photographs. The software uses the data associated with the images to calculate a point cloud representing the true, three-dimensional shapes of objects in the photos. It also uses the colors and textures in the photos to make the images appear photo-real. This is a powerful technique for recording archaeological artifacts, excavation units, landscapes, and buildings. The three-dimensional images can be scaled and the inspected from all directions, making archaeological sites accessible to anyone with an internet connection.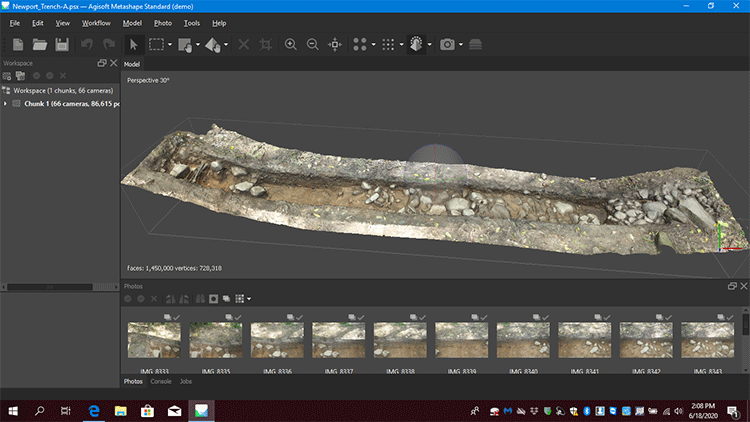 Image: Photogrammetry model of Trench 1 at the Newport Village archaeological site. Newport Village was a late 18th and early 19th Euro American settlement near modern Blairsville, Pa. The stones visible in the trench are the remains of a stone-lined nineteenth-century road.

The ACPAC grant allowed the Department of Anthropology to acquire a second seat of Agisoft Metashape Professional software. This software converts digital photos into scaled photogrammetric models. The grant also funded the acquisition of very precise scale bars so that three-dimensional models can be assigned their proper sizes. Additional equipment from the grant included a 21-foot photo pole for capturing large or tall features from the ground and a turntable for recording artifacts. This equipment and software is available for students to use in their research and classes.
It is hoped that some of the three-dimensional models of sites and artifacts will eventually be produced in tangible forms using 3-D printers in IUP's Steamshop.
About Anthropology
Anthropology is the study of human kind, including its biological evolution, the nature and development of culture, diversity across the globe, and archaeology.The Department of Anthropology at IUP places special focus on applied anthropology,which uses anthropological knowledge to address practical, real-world applications, including forensic anthropology, the handling of archaeological remains to meet state and federal regulations, or work on environmental and social issues. Learn more on the website for the IUP Anthropology Department.