Lara Homsey-Messer of the Anthropology Department recently authored a laboratory manual titled Experiencing Archaeology: a Laboratory Manual of Classroom Activities, Demonstrations, and Minilabs for Introductory Archaeology. Several IUP graduate students in the Applied Archaeology MA program and undergraduates in the Archaeology BA program contributed chapters and original artwork to the book.
Current MA students Genevieve Everett and Jessie Hoover developed chapter 26, "Tree of Life: Human Ecology," and recent undergraduates Eleanor Schultz '18 and Harley Burgis '18 developed chapter 33, "The Ethical Archaeologist." Graduate student Joseph Bomberger produced original artwork for several chapters.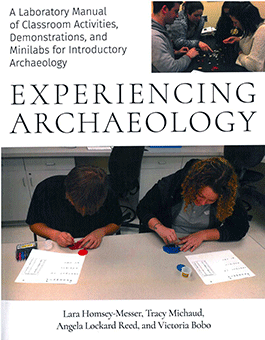 Experiencing Archaeology is published by Berghahn Books and co-authored by colleagues Tracy Michaud of the University of Southern Maine, Angela Lockard Reed of Grand Valley State University, and Victoria Bobo of Arapahoe Community College.
The laboratory manual compiles a wide variety of uniquely designed, hands-on classroom activities to acquaint advanced high school and introductory college students to the field of archaeology. Ranging in length from five to 30 minutes, these activities are designed to break up traditional classroom lectures, engage students of all learning styles and majors, and easily integrate into large and/or short class periods that do not easily accommodate traditional laboratory work.
All royalties earned from Experiencing Archaeology are donated to the Society of American Archaeology's Public Education Committee to support their mission of public outreach and awareness.