Ben Ford and William Chadwick presented papers at the 53rd annual conference on Historical and Underwater Archaeology held in Boston, January 8-11, 2020. Several alumni of the Anthropology Department and the Applied Archaeology MA Program also presented at the conference.
The Conference on Historical and Underwater Archaeology is hosted by the Society for Historical Archaeology and the Advisory Council on Underwater Archaeology. This is the major annual meeting for these organizations and attracted approximately 1,400 participants this year.
Chadwick presented on his recent work utilizing terrestrial geophysical technologies to identify shipwrecks by deploying the technologies on frozen lake surfaces. This is ongoing research, but this particular presentation focused on identifying French and Indian War era shipwrecks in Lake Champlain. The research was conducted in partnership with Texas A&M University and the Institute of Nautical Archaeology. Chadwick's research was followed by diver investigations to verify the shipwrecks.
Ford presented on his continuing work with Hanna's Town artifact collection. These artifacts are associated with the National Register of Historic Places listed site of the first British county seat west of the Allegheny Mountains. However, due to four decades of excavation by different archaeologists, the collection is challenging to work with. Students have employed different methods to analyze the collection for both senior and MA theses, and Ford's paper summarized their efforts as well as ongoing analysis of the collection.
The conference was also attended by several alumni employed in archaeology, including Ashley McCuistion (Fairfield Foundation), Casey Campetti (AECOM), Cher Gilligan (Lake Champlain Maritime Museum), Anthony Gilchrist, Angela Jaillet-Wentling (PennDOT), and Danielle Kiesow (AECOM).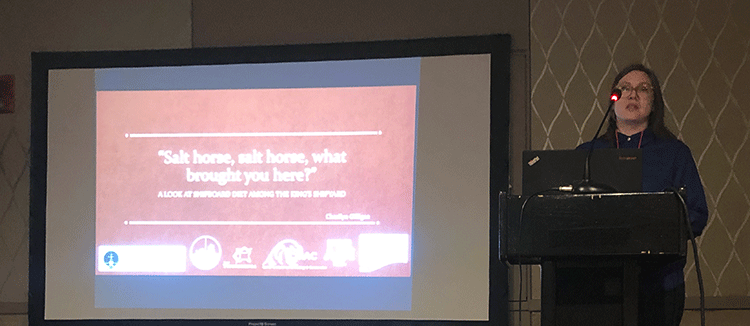 Photo: Cher Gilligan presenting at 2020 Conference on Historical and Underwater Archaeology