Simone Thomas, '03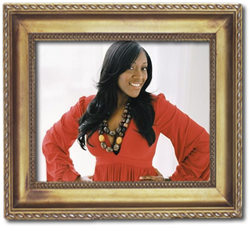 Major:Computer Science
Minor:Math
Hometown: Capitol Heights, Maryland
Further Degrees: I received a Master of Science degree in Computer Science (with a focus in Computer Graphics) from the University of Maryland Baltimore County (UMBC) in August 2005 and a second Master of Science degree in Information Systems from UMBC in December 2010.
Current Employer: I work for Lockheed Martin as a senior software engineer.
Most Enhancing Experience while at IUP: Being at the Honors College itself. I enjoyed and learned a great deal from each day of our Core classes. In addition, I learned about how different people thought about many issues and how they interact with each other while living in the Honors College. I felt accepted and understood at the Honors College, which is why I feel the Honors College is the most important enhancing experience while at IUP.
About My Major:Computer Science at IUP was an interesting experience. During the time that I went to IUP, there were not many female students in the classes. I had to work hard and earn the respect of my peers and professors in my classes. The computer science classes were difficult and time-consuming at times. Often we had to write programs and read literature on computer science theory and concepts that were complex in nature. I worked hard in all of my classes and learned the fundamentals of computer science. My computer science studies at IUP helped prepare me for my master's degree in Computer Science. It provided me the foundation I needed to excel and master the field of computer science. It also provided me basic tools to be successful in my current career as a software engineer.
HC Impact: The Cook Honors College impacted my life greatly. I have always been a person who thought "outside of the box." My perspective has been different from others since I have been born. Many times throughout my high school years and before, I have been told that I "think too much." That I should not be asking the questions that I ask and that I am not focused on what is "really important." This kind of talk always made me second-guess my questions and often made me feel different for thinking the way that I thought. This all changed once I went to the Honors College. At the Honors College, I learned that the type of thinking that I was doing was called "critical thinking" and that it is something that is rarely done in society. I learned that asking questions that others do not ask makes you intelligent and unique. I learned that having different perspectives about issues or topics is not wrong; it is life. Being able listen to different perspectives, understand what they are saying and coming to a consensus is wisdom and intelligence. The Honors College did not just teach me subject matter that was required for my degreeit taught me life lessons that you cannot find in a book. To this day, I still reference core questions in my day-to-day discussions on life, politics, and society. I feel that I am a more complete person after graduating from the Honors College and I am thankful that I attended. I feel that all school programs should be taught with the philosophies developed at the Robert E. Cook Honors College.