Rebecca Pounds, '01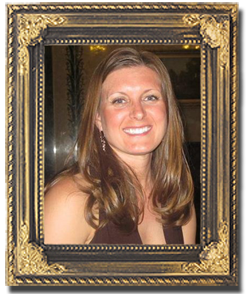 Major:Natural Science, Pre-Dentistry Track
Hometown: Marion Center, Pennsylvania
Further Degrees: DDS (Doctor of Dental Surgery) Balitmore College of Dental Surgery, Dental School, University of Maryland
Current Employer: I own my own dental practice in downtown Pittsburgh: Cantor and Pounds Dental Associates. I purchased the practice in 2006 from Drs. Cantor and Masterson.
Most Enhancing Experiences while at IUP: Being a part of the IUP cross country and track teams really enhanced my experiences at IUP. First, you had to learn how to balance your life. You had to learn how to fit your studies, practice, social life, and sleep all into one day. It really helped me to learn how to maintain a very happy and healthy life and enjoy everything life has to offer. Second, Doc Raemore was a great track coach as well as a mentor. It was great to have a coach that was also a dentist. It made me realize how it is possible to do many of the things you love throughout your life. Coach Fry also knew how to push me to my limits. I learned so much about who I am in my three years at IUP, and I attribute so much of that to my experiences on the Cross country and track teams.
About My Major: I really enjoyed my major classes at IUP. I feel that I was very well prepared for the science courses that we had in dental school. I would take my pre-dental education at IUP over any other university. I feel that it prepared me for dental school, and I am very proud to say that I received my undergraduate degree from Indiana University of Pennsylvania.
HC Impact: The Honors College exposed me to many courses and subjects that I probably would not have enjoyed as much if I just had them in a basic course on campus. The core classes allowed you to interact with the other members of the Honors College (both students and professors) in areas that I was really never exposed to or interested in until attending IUP. Because of the small groups and the close connections you build with the other students and faculty members in the Honors College, you are able to understand these areas so much more. You are learning in a such a comfortable environment that it allows you to ask questions and learn as much as you can.