Nnenna Okoye, '05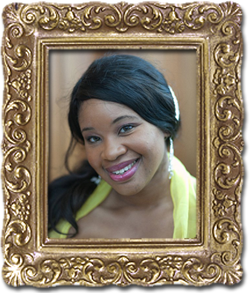 Major:Biology (Pre-medicine)
Minor:Economics
Hometown: Legal hometown is Detroit, Michigan. My formative years, however, were spent in Nigeria, West Africa.
Further degrees: University of Maryland's Robert H. Smith School of Business - MBA - May 2009
Current Employer: FSM/TD CS Senior financial analyst, Intel Corporation
Most enhancing experience: My most enhancing experiences while at IUP will have to be my involvement with several organizations on campus. While at IUP, I was both the vice president of the Pan-African Students' Association (PASA) and the president of the African Dance Ensemble (ADE). Being at the HC encouraged me to seek out these leadership opportunities as a way of getting involved on campus and with the broader community. It provided me with the opportunity to serve. This is something you find in the HCthere are several students that are deeply involved on campus in one organization or the other.
Even though I didn't get to go on a study abroad program while at IUP, my constant interaction with classmates that had gone stirred an interest within. During my MBA, I attended a semester exchange program with the Manchester Business School. I can say that it was a very gratifying experience; I was able to see the world of business from different perspectives. Discussing and debating on business issues with students from Europe, Latin America, Africa, and the Middle East. This interest might not have been so strong had I not heard of the many rewarding stories from my classmates at the HC.
About my major: My Biology major provided me with the fundamentals in research and analytics. I had initially planned to continue with a medical degree, but along the way I changed my mind and decided to veer into the field of business. Despite the differences between the sciences and business, my Biology major was certainly an advantage. I was able to draw on the analytical strengths developed at IUP and also bring some diversity in perspectives to the different organizations I worked at. Biology majors are trained to be inquisitive and analytical, and this definitely helped (and still does) in my career today.
HC Impact: I didn't initially start off at IUP in the HC, but after a semester at IUP I learned about the HC and decided to apply. Fortunately, I got in, and I must say that getting into the HC was one of the more rewarding experiences in my life. The curriculum challenged me to think, raise questions, and not simply accept things as they are. It also gave me a well-rounded education. The professors are very versed in their subject matter and generally do encourage the students to have an opinion. Coming from a conservative background and environment, this was something entirely new to me. My experience at the HC continues to help shape my perspectives and opinions both in my professional and personal life. I am now able to challenge the status quo where necessary and influence those around me to do the same.