Kelly Seibert, '09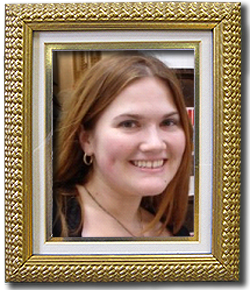 Major:Natural Sciences, Pre-Optometry
Hometown: Utica, Pennsylvania
Further Degrees: Anticipating Doctor of Optometry (O.D.) in 2013 from Indiana University
Employment: Hoosier Eye Doctor, eventually plan to open my own optometry practice.
Most Enhaning Experiences: Though my connections at the HC, I was able to secure a summer internship with a highly respected team of optometrists. Additionally, with help from the achievement fund, I was able to attend the Unite for Sight Global Health Conference at Yale University my senior year. Both were intellectually stimulating opportunities in my field of interest that I probably never would have experienced without the CHC's funding and encouragement.
About My Major: At IUP I received my Bachelor of Science degree in 2009 in Natural Sciences/Pre-Optometry, which included a challenging curriculum of Biology, Chemistry, Physics and Mathematics. The Natural Sciences curriculum is designed to prepare students for progression to any medical field and to provide all the information necessary to do well on the OAT, MCAT, DAT, or any other medical school admissions test. With the excellent science education I received from IUP, I did very well on the Optometry Admissions Test (OAT) and was granted admission to my first choice, optometry school at Indiana University.
HC Impact: The Honors College and Core had a tremendous impact on my education in both the traditional and nontraditional sense. Living in a community of scholars exposed me to many people, opinions, experiences, and fields of knowledge I had never before experienced. In conjunction with my traditional major-specific education, the writing-intensive and liberal-studies nature of the Core program gave me a huge advantage in optometry school over my peers who had been educated exclusively in the hard sciences. Additionally, I find talking to my patients and colleagues much easier because of the tremendous breadth and depth of knowledge I gained during my time at the Cook Honors College.