Jennifer Sloppy, '03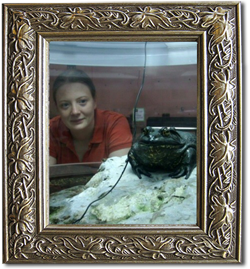 Major:Chemistry

Minors:Physics and Mathematics

Hometown: Woodland, Pa.

Additional Degree: Ph.D., Penn State, Materials Science

Employer: Penn State, post-doctoral researcher

Most Enhancing Experience at IUP: Science Summer School at University of Cambridge

About My Major: The Chemistry Department at IUP provides an excellent atmosphere and dedicated professors who take an interest in students and their futures. In addition to the high academic quality of chemistry instruction, I benefited from the help and encouragement of several professors as I worked on independent research projects and completed my coursework. IUP prepared me very well for the academic and endurance challenges of graduate school, where I was competing with students from much more "prestigious" universities.

About the HC: The HC taught me how to effectively formulate and combine good ideas with good writing. This skill has helped me immensely in my academic pursuits. The best ideas are useless if they are inarticulate. The most challenging aspect of scientific research is to ask the right question, and the skills I learned from HC students and professors help me to design and interpret experiments that get at the right questions.

When I entered college, nobody in my family had ever owned a passport, so it was a huge deal when the HC sent me to Cambridge University in the U.K. This experience empowered me to take an active role in deciding the path of my future life, and helped me to notice and appreciate my growth throughout my years at IUP.

About Me: I like frogs.

List of Majors