Garritt Fleming, '11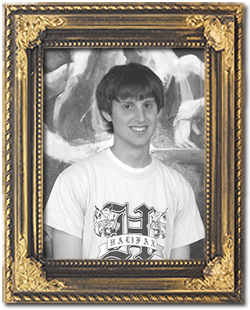 Major:Psychology

Minor:Journalism

Hometown: Easton, Pennsylvania

Most Enhancing Experiences at IUP: During my sophomore year, I got involved with a campus-based public affairs radio program. Working on the show was a great way for me to meet new people, learn new skills, and feel like I was contributing to something positive. My Japanese class offered the chance for students to work with conversation partners, who were Japanese students studying abroad at IUP. The experience of working with a conversation partner was challenging because differences in language and culture made communication difficult, but at the same time thrilling, because here I was talking to someone whose home was thousands of miles away.

About My Major: I would describe IUP's Psychology program as comprehensive and useful. It offers courses in many fields of psychology, from human cognition and forensic psychology to developmental psychology, and more. The research-driven program also requires students to take courses that prepare them to conduct their own research. I have been pleased with all the teachers I've had in the Psychology Department. They are passionate about what they teach and are willing to go out of their way to help students.

HC Impact: Through Core, I have learned how to become a better time manager, a stronger writer, and a more confident person. Core has also taught me to look at the world in a more analytic way than I had before. Lastly, I think Core and the Honors College in general provides an environment in which students can easily make friends. I have met some of my best friends through my experience at the Honors College.