Whitney Hampson Streed, '06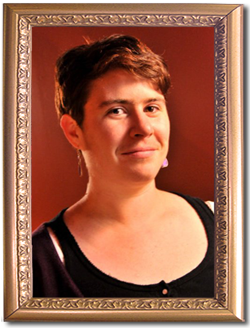 Major:History
Minors:Theater and Gender Studies
Hometown: Colorado Springs, Colorado
Current employer: Educational Options, Inc. I have worked for the company since graduation as a curriculum specialist, writing and editing online textbooks.
Most enhancing experience while at IUP: I had innumerable enhancing experiences at IUP. One of the most formative was my summer abroad in Bostcastle, England, where I studied witchcraft and the history of paganism, a trip put together and funded largely by the Honors College achievement fund. The other is the campaign undertaken at the end of my senior year on campus to root out and eradicate a strong antidiversity element that was creeping into campus culture. Alongside a number of my close friends, and as the head of the campus GLBTQ Pride group, we engaged in a number of interconnected progressive actions, from staging an anti-hate rally to working with the administration to develop more comprehensive student protection language that covered gender demonstration and sexuality. Many of the people I worked with during this time started in or completed their degree while in the Honors College.
About my major: I majored in History, with a strong focus on America and on social, cultural, and industrial change. The History department at IUP is stellar and incredibly supportive of helping students find their passion, and studying the currents of history has provided me with a framework within which to around my current cultural critique.
The HC's impact: My time in the Honors College has invaluable to me in learning how to work in a community of other beings who are all in the course of becoming fully realized human beings. The diversity of opinions and behaviors of my HC classmates was vast, and yet we found it easy and in fact enjoyable to collaborate with each other in as many ridiculous ways as possible. This has inspired me in my own personal quest to find ways to create institutions and systems that unite and support all parties involved, a journey that has taken me everywhere from radical activism to the comedy stage. As I work on my cunning plan to initiate world domination through a combination of glitter eyeshadow and puns, I think fondly of what the HC has given me.