Robbin Zirkle, '12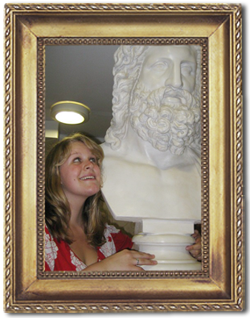 Major:English -- concentration in Literary, Textual and Cultural Studies
Minor:Sociology
Hometown: State College, Pennsylvania
Most enhancing experience: The 2009 PASSHE Summer Honors Program in Belgium, France and the Netherlands was a fantastic study abroad opportunity. It gave me the opportunity to immerse myself in European culture while working closely with fabulous professors in some of the world's oldest cities. I also had the chance to network with other honors students in the state and to broaden my own understanding of human societies.
About my major: The English department at IUP is truly fabulous; classes are small, and professors take a real interest in developing their students. I have worked with a network of professors to help identify my own goals and aspirations and to improve my work. Better yet, every teacher is eager take time from his or her own scholarly pursuits to help me out.
HC impact: The Honors College gave me a skill set to excel, particularly in my major; I was given the tools to think critically, speak eloquently and write well. The tight-knit community in the Honors College creates an environment that enabled me to do well and encouraged me to push my own limits academically. I definitely owe my success at IUP to the Honors College.