Micah Savidge, '03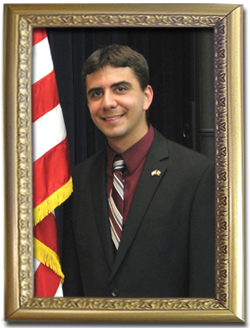 Major:Economics
Minor:Political Science
Hometown: Middleburg, Pennsylvania
Further Degrees: M.A. from Johns Hopkins University - School for Advanced International Studies in International Relations & International Economics
Current Employer: Currently working for the U.S. State Department as a Foreign Service Officer. I am serving in the political section of the Bucharest embassy. I cover the human rights portfolio: human trafficking, religious freedom, ethnic and religious minorities, etc.New Link
Most Enhancing Experiences: Attending the Engalitcheff Institute on Comparative Political and Economic Systems (ICPES) at Georgetown University and a semester abroad with Boston University studying sustainable development in Costa Rica.
About My Major:Economics taught me how people analyze the costs and benefits of their actions when making decisions, and how offering the proper incentives can affect changes at the local or national level.
HC Impact: The Honors College taught me that I was given a gift of intelligence and that I should use that gift for improving the world. It was also the first time I was really challenged to make opinions and learn to defend them. The HC taught me how to think.
List of Majors