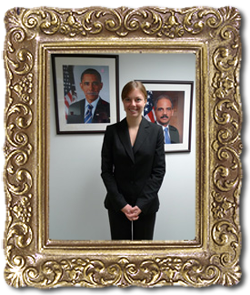 Major: Political Science
Minor: Philosophy
Hometown: Columbus, Ohio
Further Degrees: Currently enrolled at the University of Virginia School of Law. JD expected 2012
Current Employer: I am currently a summer law clerk in the Constitutional and Specialized Tort Litigation section of the Department of Justice's Civil Division. After graduating from IUP, I worked on a Virginia State Senate campaign. When my candidate was elected to the Virginia Senate, he brought me on as his legislative aide. I worked in that position for two years before starting law school.
Most important enhancing experiences while at IUP: The summer after my sophomore year, I participated in the Engalitcheff Institute on Comparative Political and Economic Systems at Georgetown University in Washington, D.C. I had a fabulous summer, both in the classroom and in my internship. I interned with an international general practice law firm in D.C., where I worked on a business partnership dispute and reviewed refugee reparation claims. The most valuable part of the summer were the mentors I gained. My internship sponsor, Mary, was fabulous, and we still get together for lunch when I am in D.C. I was also paired with a mentor through ICPES. John and I still keep in touch and regularly get together for lunch. Mary and John, who both have law degrees, have been wonderful resources and mentors to me throughout my career and during the law school application process. Funding from the Achievement Fund made this experience possible.
About my major: The professors in the Political Science Department are experts in their field, but are also excellent teachers. The upper-level courses are small, and the professors are always available to meet with students outside of class. None of my courses was taught by a TA, which was great. The professors also were supportive of student activities and were willing to help organize events on campus.
The HC's impact: The best part of my experience at IUP was my honors core classes. The professors really pushed me to think and reflect on the materials presented. Nightly writing assignments with professor review and feedback greatly improved my writing skills. With only twenty students per class, and students who came to class prepared, class discussions were engaging and challenging. The reading material was always fascinating, and class discussions often spilled into the dorm rooms in the evening. The communication skills I developed at the Honors College, combined with my study abroad and internships, made me a well-qualified candidate in my job search and when applying to law school.