Melissa Yates, '08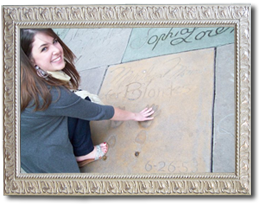 Major:Fashion Merchandising
Minor/Concentration:Small Business Management/Entrepreneurship
Hometown: Pottstown, PA
Current Employer/Job: Sales Executive, Russell Newman Brands (St. Eve)
Most Enhancing Experience at IUP: One of the most spectacular aspects of the Honors College is that its students are so involved in campus activity and creating new clubs and events. Obtaining leadership opportunities at a large campus may seem daunting, but at IUP I found myself and many of my HC classmates actively involved in leadership around campus. These were some of my best experiences on campus, as they led to new friendships and experiences.
Another college activity that many Honors College students take advantage of is study abroad. I traveled to Milan, Italy, for one summer to study fashion design and Italian language. Though I did not ultimately choose this as a career path, the experience of living in an international city, and a fashion capital, was very rewarding. The best thing I took away from the whole experience is a great sense of adventure and love of travel.
About My Major: IUP's Fashion Merchandising program provides a thorough overview of the varied segments of the fashion industry. The classes offer open-ended assignments to allow students to independently pursue their interests within the course parameters, encouraging new pursuits within the field.
During the course of my study at IUP, I found several new avenues to explore in the fashion industry. I studied abroad in Milan, Italy, to learn about fashion design, and I spent some time working in costumes for a theater company in my hometown, but I found the aspect of fashion I was best suited for was sales and merchandising. This role combines the study of consumerism and analysis of social demographics with my interest in business.
HC Impact: The Honors College program has been invaluable in its contributions to my success and personal growth. As a high school student, I never had to work very hard to be successful in my classes, but the Honors College Core program, its instructors, and its students challenged me to keep up with students on my intellectual and maturity level and higher. My discussions with classmates and professors, both in and out of class, caused me to think about issues and events in my life more intellectually, and helped to refine and develop my passion for the fashion industry. This intellectual "bootcamp" of critical thinking changed me and my whole life's course by demanding excellence and true deliberation rather than mediocrity and blather.