Jackie Herbert, '09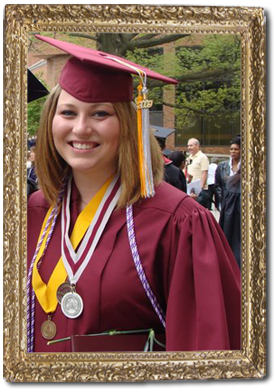 Major:Nursing
Hometown: Nazareth, PA

Current Employer: I am currently a registered nurse at Lehigh Valley Hospital and Health Network. They are a "Magnet" hospital which is a highly regarded certification for excellence in nursing care. I work in the Emergency Department.

Most Enhancing Experiences: One of the most enhancing experiences of my college career was working as a supplemental instructor (SI) leader. I was recommended by Dr. Irani to tutor cell biology to other students and peers. I attended the student's cell biology classes and tailored review and tutoring sessions twice a week outside of the classroom. Tutoring enhanced my communication and listening skills and helped me to understand the many ways students learn and soak up material outside the classroom through worksheets, games, and group activities. I really enjoyed interacting with students my own age, and it made me feel great when they said that they got A's on their exams because of my extra help!

My Major: Nursing is a challenging and rewarding major. The nursing department holds high standards of excellence and professionalism in and outside of the classroom. This helped shape my character in a positive way then and has made me a better nurse today!

HC Impact: My HC experience was truly wonderful. The HC fosters an environment of open and lively discussions about the arts, history, music, science and many more areas - topics that I had never thought about before coming to the HC. The HC taught me how to communicate effectively through these discussions and also through writing many journals and "thesis" papers.Core made it easy for me to get A's on papers in my nursing and science classes because I had so much practice in the HC. The HC instilled a special confidence that made it easier for me to present and speak in front of large groups of people and on a more down-to-earth basis with my peers. The HC's achievement fund allowed me to travel to Italy - an opportunity I would not have had without the generosity of this fund! I have met my closest and dearest friends through the HC - I would go back and do it all over again if I had the chance.