Danielle Ostendorf, '13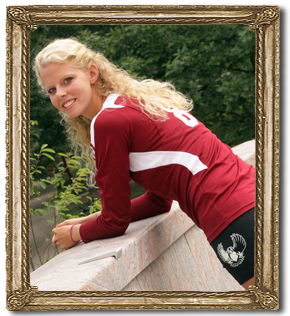 Major: Exercise Science
Concentration: Physical Therapy
Hometown: Rockford, IL
My experience at the Honors College has definitely been unique. Living in Whitmyre has been one of the best experiences of my life. I have met so many neat people and I have learned so much from them. One of the cool things about having all the freshmen live in Whitmyre is that you have a diverse group of students. There are students from all different kinds of majors with strengths in different backgrounds. This was very beneficial, because if I needed help with a subject that was unfamiliar to me, there was most likely someone who lived right down the hallway from me who was a genius in that subject. I love being part of the Honors College community. I have been able to learn from others' experiences, and I have changed my views on important issues due to influences in the HC.
Managing time during my life at IUP has been particularly difficult. I try to balance time between homework for the HC, homework for classes in my major (Exercise Science with an emphasis in Physical Therapy), and practice for the Division II IUP volleyball team. By being in the HC, I have been able to remain focused on my academics and their importance. Although the homework for the HC has been very time consuming, I have learned so much from it. I am now more confident in my writing abilities and my ability to voice my opinions in a group setting. The faculty in the HC is stupendous. All of the teachers in the HC that I have had are extremely intelligent and have pushed me to be a better student. Each professor can offer unique insights on his/her subject. One of the best things about the HC is that we have an awesome secretary, Lisa Halmes. She is one of the nicest people that I have ever met, and she is always looking out for the students. She is not afraid to take time out of her busy schedule to help a student in need.
In the future after graduating from IUP with a baccalaureate degree in Exercise Science and a minor in Psychology, I plan to attend a graduate school that ranks in the top twenty for their physical therapy program. Three of my options include University of Pittsburgh, University of Delaware, and Creighton University. After I complete the three-year doctorate program to become a physical therapist, I plan to launch myself right into the work force. I am very hopeful and excited about my future as a physical therapist.