Tesia Dugan, '02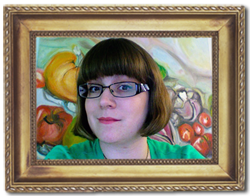 Major:Theater

Hometown: Columbia Station, Ohio

Further Degrees: I hold an MFA in Costume Design from the University of Illinois at Urbana Champaign, Krannert Center for the Performing Arts.

Current Employer: I work as a freelance costume designer out of Cleveland, Ohio. I am currently employed for the season as the costume coordinator at Opera Cleveland, as well as the props master. I also design costumes for local theaters and schools, including Near West Theater, which has a wonderful community outreach program. I have also worked in California, Illinois, and Pennsylvania in my time after leaving IUP.

Enhancing Experiences at IUP: I would have to say that one of my most important experiences at IUP was the ability to participate in the Vienna study abroad program. To be able to travel to Europe and to focus in depth on Fin de Siecle Vienna art and culture was fascinating and something I still think about to this day. The ability to read and study history and then go experience the place where it happened is simply amazing, and I wouldn't have been able to do it without the enhancement fund.

About My Major: I am very glad that I started out my theatrical career in the Theater Department at IUP. Not only were the professors invested in us as theatrical artisans, but they were invested in us as individuals. Being part of a small, tight-knit theater department provides a great basis for all collaborations to follow, because you have to learn what it really means to work together to get a production together and how to not take things too personally. The sense of community in the Theater department is really lovely.

HC Impact: I think that the interdisciplinary focus of the HC, specifically Core, has really influenced the way I think and analyze things. I loved looking at the big questions from unexpected perspectives. What is art? How can you answer that through the lens of history, or literature, or science? I think it is really important to understand how to look at a question from many different anglesthat is one of the essential ingredients of creativity. I'll even admit that I have revisited "Asking the Right Questions" within my recent memory.

In the end, beyond the classroom and knowledge, it was the friends I made living in Whitmyre that really changed who I became. I wasn't your stereotypical theater student, stuck in the basement of the theater, living and breathing for the next show; instead I had a much broader world to explore. I had friends from anthropology, chemistry, computer science, political science, English, biology, psychology, and elementary education. I had to get to know them, because we lived together. The beauty of it was that we didn't live together just because campus housing had arbitrarily put us togetherwe all had chosen to join this experience because we loved knowledge and learning. Learning with motivated, intelligent people from all different disciplines sharpens your mind, and in turn makes able to be better at what you do. I know I have benefited from this. I learned not to fall into the trap so many in my industry fall into of "the show or nothing," because I was always reminded when I came home at night that there are many different paths to take in this world and each is worth exploring, if only in a midnight conversation.