Rebecca Mir, '10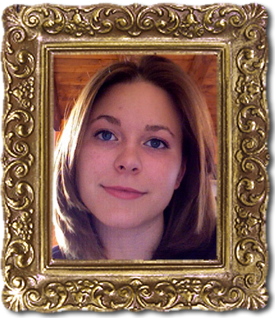 Major:Art History
Hometown: Delmar, Md.
I decided to come to the Honors College at IUP because I fell in love with Whitmyre and Honors Core during the Summer Honors Program. Freshman year, I was instantly welcomed into the Honors College community of scholars. I was surrounded by artwork and by people who were genuinely interested in their studies and in each other. Because of this environment, and because core was so challenging, my writing and critical thinking skills have improved immensely. My fondest memories from IUP are of community breakfasts or midnight pancakes in the Great Hall and writing thesis papers with other students in the honors classrooms. We worked hard but still always had time for fun.
My major is art history, and because the IUP Art History department is so small, the Honors College has helped in supplementing my education. The honors core classes helped me develop reading and writing skills that every art historian needs for graduate studies. The Honors College's achievement fund made studying abroad a possibility for me. I attended University of Cambridge's art history summer program, John Cabot University in Rome, and Universit Cattolica del Sacro Cuore in Milan. At University of Cambridge, I wrote essays for academic credit and learned more about the discipline of art history. John Cabot had great art history professors, and I was able to do an independent study on Roman magical objects. At Cattolica, I had intensive language courses and took university courses in Italian. Since M.A. graduate programs require knowledge in Italian, French, or German (Ph.D. programs want German and either French or Italian), studying abroad in Italy has helped prepare me for my M.A. program. Without the honors college, my education in Art History would not have been as fulfilling.
I have been accepted to Bard Graduate Center's M.A. program in the decorative arts, design history, and material culture with full tuition and campus employment, all thanks to the Honors College at IUP. I will move to New York City and begin the two-year program in August 2010. After that, I hope to secure an educational curator job in a museum.