Erin Barbour, '02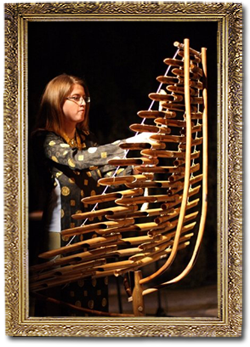 Major:History and Music Performance - Percussion
Hometown: Morrisville, Pennsylvania
Current City: Bronx, New York
Further Degrees: Indiana University (Bloomington), Masters in Ethnomusicology
Current Employer: Self-employed: vibraphonist, percussionist, composer
HC Impact: Being thrown into the tumultuous world of adult life with a bunch of other naive, partially-formed, and inquisitive adolescents all leaving home for the first time seems like a recipe for disaster; and yet, we were calmed by the gilt frames, gleaming white busts, and ancient maps on the walls, while also being sufficiently scared into discipline by the entryway display of Klimt's Judith and Holofernes painting. How was I impacted? How did I exit the forge? Hmmmm . . . Well, since I graduated (percussion), I gravitated towards the vibraphone instrument, which I now play in New York City. Sometimes I wonder why I spend so much time hitting a bunch of thin metal bars to make sounds. Each day regular people (non-vibraphone players) ask me, "How did you start doing that?" I can't explain why I started or why I play, I just know (or believe?) that I have to. There are special things to "say," and the only way they can be communicated is through music, and the intangible meaning of music itself is too ambiguous and mystical to be properly analyzed here (or anywhere). It seems a fool's errand to attempt to describe the impact of the CHCthe impact of thousands of moments, hundreds of people, hundreds of books, my journey through three dorm rooms, a grand piano, and at least one thousand cups of coffeeon my relationship with such an intangible art form.
Perhaps I can describe the impact of the HC not in music, but on my role in society as a part of a larger global environment. No, even that seems impossible with moving analytical targets such as individuals and communities who are dynamic and constantly changing hats. Can all the infinite complexities of humanity and the endless magnificence of the universe be revealed to some kids during a four-year stint at the HC? Is there a final crowning summit along our individual and congruous journeys as we navigate through a murky and unpredictable society? Is it possible to discover "it," the Meaning of Life, by participating in a seasonal and structured series of classes? Probably not.
And yet, I did leave with something special (and no, it wasn't a statue or a rug). Metaphorically speaking, I garnered a set of gogglesspecial lenses crafted by our great teachers for appropriately viewing that endless magnificence of the universe; a worldview that appreciates beauty, fairness, service, and justice and constantly seeks to evaluate what those things rightfully should be. I use that view, as I'm sure most of us do, to build more solid infrastructures within my own micro-communities in what ways I am able, even if those ways are often intangible.