Eric Black, '05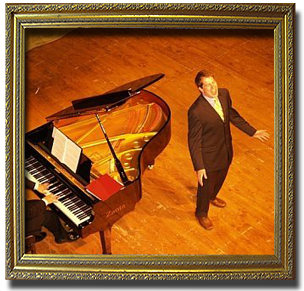 Major:Music Performance- Voice
Hometown: Homer City, Pennsylvania
Further Degrees: M.M., Opera Performance, Maryland Opera Studio at University of Maryland-College Park
Current Employers: I'm a freelance singer with contracts at the Kennedy Center and the Lincoln Center and with the Naxos Recording Label.
During my time at IUP, I laid the foundation for the skills that I would need to become a professional singer. The performance experience that I garnered at IUP really has had inestimable value for me. The advantage was immediately clear when I went to grad school and I realized that I had a great deal more performance opportunities than my peers who had attended larger universities. These experiences transformed me into a performer who was at ease, as much as one can be, in front of 500 people. Going out on stage as often as I did at IUP made performing feel like another day at a job that I love to do.
I especially learned how to deal with whatever unforeseen events occur during a performance. One night while I was performing La Serva Padrona at IUP, my pants split from the right side of my waist down to my left knee. As you can imagine, a tear of this nature and magnitude is hard to deal with at the climax of a show, but the show must go on, and that performance taught me quite a bit about what to do when Murphy's law inevitably proves true.
IUP also gave me the opportunity to go abroad and learn from a second-generation student of Puccini in Puccini's hometown while singing a Puccini opera. This experience not only taught me Italian and how to sing well, but also connected me to some rather important people in opera, as well as great colleagues who are now working around the world. That is one of the main ways that you get gigs in the opera world: having friends who recommend you for a performance.
The Honors College also changed how I look at the world from a macro-perspective. I started at IUP as a Chemistry major in September of 2001. Dr. Richard Ciganko and Lynn Botelho were my first two Core professors, and, with the aid these two professors during the tragic events of that time, I realized for myself that life is short, I should do what I love, and I need make my mark on the world. A few months later in Cambridge, England, I realized that I loved and would make my mark with something other than chemistry. I decided, therefore, that I should become an opera singer.