Shauna Doyle, '01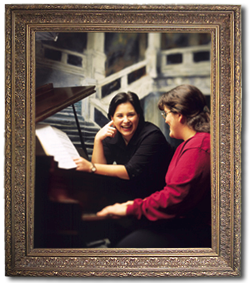 Major:Education of Persons with Hearing Loss (Deaf Education) and History

Hometown: Havertown, PA

After four years of Honors classes in high school, just outside Philadelphia, Shauna Doyle expected a lot from the Cook Honors College at IUP. She wasn't disappointed.

"In high school I worked as a teacher's assistant, became friends with many of my teachers, and would often spend afternoons talking with them. What I hoped to find, and did find, at the Honors College were professors who not only liked to teachthey also wanted to interact with us. They were always there for you when you needed them. All of the professors I've met on this campus have wanted to get to know us as students and . . . just . . . people. And, in class, they don't teach in the traditional sense of just presenting material and lecturing. They are there to facilitate learning, which is very different. Unlike the professors in many colleges, our professors are here primarily to teach, not to do research and to write books all the time. And, unlike the situation in most universities, we have professors teaching all our classes, not graduate students."

It's not just the professors who make the difference for Shauna and her classmates. It's the prevailing sense of community, of connection, that students, faculty, administrators, and staff seem to share so strongly at IUP and the Honors College.

"I don't know what I would have done without the community of the Honors College. People care about me as a student and a person, which is wonderful. I always felt welcome here, which is important for students in college. We're a young college and we're only getting better with each passing semester!"

During her years at the Honors College, Shauna Doyle was active not only in the Honors College, but in the larger community of Indiana, Pennsylvania.

"I was in the Sign Language Club, and I was the Facilities Committee chairperson, but I also volunteered at the Open Door as a crisis intervention specialist, tutoring people in sign language and tutoring children in Indiana in various subjects. After a summer of study in Ireland ,I did my student teaching."

"I graduated with two degrees, in History and Education of Persons with Hearing Loss, so I have lots of options for teaching deaf students. Eventually, I'd like to teach at a university. Whatever happens, I do know one thingthat, no matter what else I do, I will probably be a student for most of my life, since it's what I love the most!"