Majors in the College of Education and Communications
Communications Media Majors
Alyssa Rosso Ross
Class of 2001
Hometown: Philadelphia, Pa.
Majors: Communications Media and Journalism
Current Employer: We just moved to Maryland from Washington state. Most recent two positions: communications manager for Ballet Northwest in Olympia, interim director of Communications and Marketing for Tacoma Art Museum in Tacoma.
Rob Arner
Class of 2003
Hometown: Newtown, Pa.
Major: Communications Media
Minor: Spanish
Further Degrees:MA in Religion from Eastern Mennonite Seminary and currently a PhD candidate in Theology and Ethics from Lutheran Theological Seminary at Philadelphia.
Adjunct professor at Chestnut Hill College and the Pennsylvania extension of Eastern Mennonite Seminary.
Robyn Schultz
Class of 2007
Hometown: Peachtree City, Ga.
Major: Communications Media
Further Degrees:MA in Student Affairs in Higher Education, Indiana University of Pennsylvania
Current Job: Assistant director of Student Activities at Alvernia University in Reading, Pa.
Jennifer Norton
Class of 2009
Hometown: Lakewood, Ohio
Major: Communications Media
Minor: Theater
Further Degrees: Currently pursuing a Master's in Library and Information Science at Kent State University
Education of Exceptional Persons Majors
Emily Abrams
Class of 2000
Hometown: St. Petersburg, Florida
Major: Education of Exceptional Persons
Additional Degrees: James Madison University, College Student Personnel Administration (MEd)
Current Employer: Classroom Teacher for students with Severe Emotional Behavioral Disorders (SEBD) and Autism Spectrum in a Self-Contained Setting, Coastal Georgia Comprehensive Academy
Andrea Brown
Class of 2003
Hometown: Albion, New York
Major: Education of Exceptional Persons
Minor: Philosophy
Further Degrees: Masters of Education Policy, George Washington University
Current Employer: Summit Educational Resources, Instructional Technology Specialist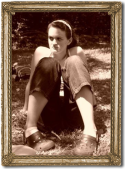 Rose Harvey
Class of 2011
Hometown: Louisa, Virginia
Majors: Special Education and Theater
Most Enhancing Experiences: Study AbroadThe Honors College offers some great study abroad opportunities, especially as senior synthesis courses. The enhancement fund is a great way to make traveling an affordable reality.