Alana Jo Schafer, '10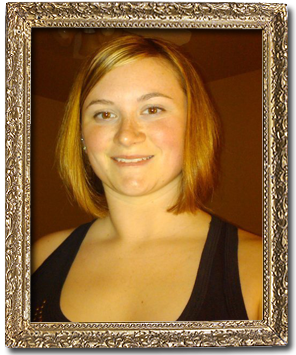 Major:Disability Services
Minor:Deaf Studies
Hometown: Tabernacle, NJ
Further Degrees: Masters of Education in Early Intervention of the Deafblind from Utah State University (will be completed August '11)
My Major: I originally began my undergraduate studies with a major in Deaf Education. During my first semester of my junior year, however, after a practicum experience, I realized that teaching was not necessarily my passion. My interest in the diverse population of children and students, as well as their special needs, remained and I found a home in the Disability Services program. This program provides its students with a vast understanding of many exceptionalities that people of all ages can present to professionals, as well as anyone else with whom they come in contact. Disability services falls under the College of Education and culminates in an internship during the spring semester of senior year.
The beauty of this internship is that the student gets to set up his or her own experience by choosing where and with whom they intern. I set up my internship through the Armstrong-Indiana Intermediate Unit, which provides a numerous amount of services to children within both counties. I interned specifically with the IU's Early Intervention department. There, I was given the opportunity to work with a wide variety of children with special needs and observe numerous meetings, such as those held between the parents and service providers (speech therapists, occupational therapists, etc.).
During my studies in the Deaf Education program, I developed a strong interest in early intervention, which focuses on providing special services to infants and toddlers with special needs. Early intervention has been shown to have huge benefits in the development of children with special needs, who would otherwise continuing falling behind the skill levels of their typically developing peers. To make a long story short, my early intervention interests began focusing on the low incidence population of those who are deaf and blind. With further searching, I found Utah State University's program for early intervention of the deafblind, which happens to be the only one of its kind in the U.S.
With the firm foundation that the Disability Services program provided me, I was given one of two spots in USU's Masters program. I now have the wonderful opportunity of being in an accelerated program that is taught by amazing professors who have decades of experience in the deafblind field. I am eagerly awaiting graduation, even though my studies have only just begun, so that I can start working as an intervener or parent adviser to those with children who are deafblind.
HC Impact: The Honors College has given me the tools necessary to think critically and write with a strong focus in mind. I would like to think my writing skills were pretty good upon graduation from high school, but by the time I graduated from the HC, my skills were at a completely new level. I learned to write with a purpose in mind and to be aware of my sentence structure, in addition to all of the other grammatical and organizational details that each professor desired from the students.
The learning environment created in the HC is unlike any other I have ever come across. It is definitely that environment that allows numerous students to refine their skill sets. Overall, I think the HC gave me a better sense of awareness; despite whether it was through analyzing information or being more conscious of what I was writing, the HC fostered the development of this sense of awareness.