Tia Kipp Gamler, '03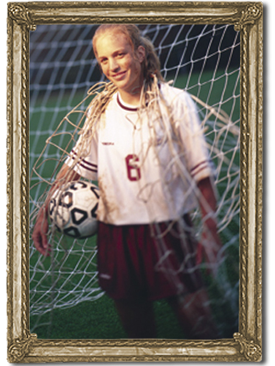 Major:Accounting
Hometown: Quakertown, PA - currently residing in Catasauqua, PA
Further Degrees: CPA license
Current Employer: I'm the assistant controller for Cigars International. I've been employed at CI for over 5 years, starting as the staff accountant and being promoted to Assistant Controller within the past year. CI distributes cigars to consumers all over the US. The company was started by 2 fraternity brothers 12 years ago and we now employ 175 people and just recently built a new warehouse that is 250,000 square feet.
Enhancing Experiences at IUP: IUP as a whole was a great experience for me. While I can't contribute one specific experience to this, one thing that I believe IUP taught me was how to be a professional. Thru many avenues I was taught the importance of professionalism and it's something that I use every day at work as well as in my personal life.
The SAA (Student Accounting Association) provided me with exposure to employers and other events that prepared me for the interview process. Thru dinners and career fairs I learned how to talk with employers as well as becoming more comfortable in a professional setting. Now I periodically have dinners to attend with auditors or luncheons with other accountants and my past experiences with SAA help me to feel more comfortable in those settings.
I obtained an internship between my junior and senior year in Carlisle, PA (about 2 hours away from my hometown). For the summer I lived in an apartment on my own, trained for soccer, and worked full time. The internship reinforced the need to be professional in a public accounting environment as I did work for the partners and worked at client offices.
Being professional is obviously important in the field of accounting. I was able to move up at Cigars International as quickly as I did because of my work ethic and professionalism. Over the past 5 years I have worked directly with the President, VP, and Executive VP of Cigars International as well as all of the supervisors of varying departments. I have gained their respect and in turn have been promoted to Assistant Controller after only 4 years.
My Major: My accounting degree has obviously helped me tremendously in my career as that is my job. The accounting department at IUP did a great job of preparing me for a future career in accounting. While the courses were difficult, the professors made sure we had the basic knowledge that we needed to enter the accounting field.
HC Impact: The Honors College was another highlight of IUP. It was one of many factors that drew me to IUP. There was no other college that had an Honors College like RECHC. Core helped me to think outside the box and it was a class that forced me to interact with my piers. It was a 'non-traditional' class that made me look at topics thru a different perspective.