Ray Edwards, '11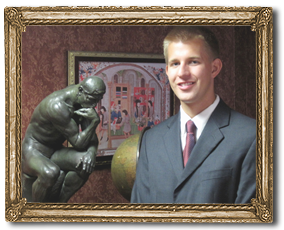 Majors: International Business and Economics

Hometown: Wernersville, Pa.

The HC experience is multifaceted. From being a resident scholar to providing service to my community, I have become a better person after my short stay at the HC.

The academic experience at the HC is centered around the innovative Core curriculum. In Core, professors serve as facilitators who provide the fodder and direction for a discussion-based class. Prior to class, students do a reading and write a journal reflecting on that reading. Since I live with my classmates, we have the opportunity to work together to understand material that is often dense. It is the people that you meet at IUP that will make your experience worthwhile.

HC students bring different backgrounds, opinions, and experiences to the table, which make the in (and out of) class discussions colorful and enriching. Core was valuable to me because it made me a more careful reader and an effective writer. I learned to think critically and keep an open mind during a class discussion.

As an International Business major, experiencing other cultures is extremely important to me. Among the many experiences I've had at IUP that I may not have had at other universities have been my travels abroad. With some help from the Honors College, I was able to spend May 2008 in Siena, Italy. Here, I participated in an immersive language program. It was one of the most rewarding experiences of my life, and I am working to return to Italy for an extended visit in May 2011. This summer, I have the opportunity to travel with the HC to Vienna, Austria, for a month and to take a two-week course at the London School of Economics. In October, I will travel with the Honors Business Program to Bangalore, India.

Being a Business major in the HC is doubly rewarding, since I decided to participate in the Business Honors Program through the Eberly College of Business and Information Technology. This program has many students from RECHC who have become some of my best friends, and school is a lot easier when I get to do it with my best friends. The curriculum is a bit different, but some of the perks include smaller class sizes with familiar classmates, trips to Washington, D.C., Bangalore, India, and support from the college.

The Economics Department also has an honors track that I opted to take. Any Business major can easily take a second major in Economics, and the honors track has given me the opportunity to do research and complete an undergraduate thesis. The title of my thesis is "One World, One Dream: Factors of Success at the 2008 Beijing Olympics Games." This paper examines the variables that determine the performance of countries at the Olympics Games. The Economics faculty has been extraordinarily supportive of me and has inspired me to consider pursuing an advanced degree in this field.

Perhaps the best experience I've had during my time at the HC has been representing the student body on the IUP Council of Trustees. Somehow, in the middle of my sophomore year, I found myself with a vote equal to each of the other members on the Council of Trustees. This experience has given me a glimpse of what it is like to oversee a business and what is expected of upper-level management, and a taste of the responsibility that goes along with making very important decisions. A typical internship, like the one I completed last summer, starts you at the very bottom of the business ladder. This experience has started me at the top. Like I said before, it is the people you meet at IUP that will shape your experience, and the people I've met through my role as student representative to the trustees have taught me at least as much as I've learned in the classroom.

My advice to you is to take a chance and give CHC a try. I've learned more here than I could've at any other school, and if you take the opportunities afforded to you, you can too.

List of Majors