Lucy Sheftel, '00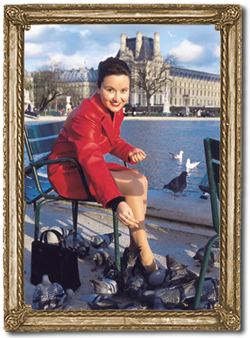 Major: Finance
Hometown: Rostov on the Don, Russia

Additional Degrees: University of Nancy, Commercial Institute of Nancy, France; MBA with concentration in Financial Management and Capital Markets
Employers: Assistant Vice President, Financial Reporting Group, Federal Home Loan Bank of San Francisco, CA (7/09 - present); Financial Services - Assurance Manager, KPMG LLP, San Francisco, CA(10/03 - 04/09); Financial Services Audit - Audit Associate,PricewaterhouseCoopers, San Francisco, CA (08/02 - 10/03); International Audit Department, Audit AssociatePricewaterhouseCoopers, Paris, France (11/99 - 08/02)
Growing up along the coast of the Black Sea in southern Russia, at the age of fifteen, Lucy Sheftel never imagined she would travel to Nancy, France, for a year of study abroad in 1997-98, or win second prize in the National Alliance Francaise competition for excellence in French and essay writing, or hold a summer 1999 internship with NASDAQ Stock Market, Inc., in Washington, D.C., and then take on a research internship at the European Parliament in Luxembourg the fall of that same year. Nor did Lucy ever dream that she would be living in Paris and working for PriceWaterhouseCoopers, then moving to San Francisco in exactly the area of her greatest interest, international finance!
"As you might guess, a lot of unexpected things happened, starting when I was studying in high school in Russia. For example, at fifteen, I received a United States Government scholarship to spend my junior year at a high school in Seattle. At the end of that year, I came back home to Russian and finished up my senior year at my original high school. Then my father moved to the United States. I joined him and I finished another senior yearthis time at Bethel Park High School. After graduation, I went right on to IUP and the Honors College. Then I did sort of the same thing at the college levelby the end of the senior year I'm had two university degrees: one from Institut Commercial de Nancy, the seventh best business school in France, and my degree from the Honors College and IUP."
Lucy credits the Honors College, its director, Dr. Janet Goebel, and her professors in Finance and French for making all this possible.
"Part of what attracted me to IUP was the wide variety of classes in my major (then Economics, later Finance) and because I really liked the Honors College. The students here really want to learn, and the professors are really willing to help them learn, and to help in all kinds of ways. Professors like that make all the difference. The French Department helped me get my internship abroad with the European Parliament, and Dr. Goebel found the NASDAQ internship for me and encouraged me to apply. I joke about it, but I mean it when I say the best advice I ever got in my life was from my parentsand Dr. Goebel. Along with all of that, the Honors College made the PriceWaterhouseCoopers internship possible and let me use an independent study finance project in Paris as part of my Honors College credits. I completed a research paper, "Influence of Day-trading on Financial Market Volatility," in cooperation with Dr. Boldin from IUP's Eberly College of Business. And, one of the advantages of independent study is that you can use your project paper to apply to graduate school, since they typically ask for a sample, research paper, or undergraduate thesis."
Along with her research paper, Lucy Sheftel also has one notable publication to her credit.
"While I was interning in Luxembourg, I wrote a twenty-page paper, which the European Parliament published. I wrote on 'Financial Services in the European Union,' which includes issues such as securities exchange, banking, and insurance. I can use that as well for a graduate school application. And, again, thanks to Dr. Goebel, who told me about it, I'm applied for one of the Paul & Daisy Soros Fellowships for New Americans, which as they say, 'provide[s] opportunities for continuing generations of able and accomplished New Americans to achieve leadership in their chosen fields and to partake of the American dream.' Hey! That's mea new American!"
Back here, at home, after her first study abroad and her NASDAQ internship in Washington, Lucy Sheftel became a member of the IUP Finance Association.
"I learned a lot here, andwhat's really importantI learned to work with other people. I also did some community service with the American Red Cross, doing some note-taking for disabled students. In, fact, I got so involved with internships and study abroad that I decided to postpone my graduation for a year, just to get everything done. And, along with all that, the Honors College pushed us to attend a lot of fine arts eventsmuseums, theater, ballet, art exhibitsthings I might never have gone to otherwise. Dr. Goebel and the staff at the Honors College always let us know, usually by e-mail, when something good was coming. It was one more nice surprise, for me, in belonging to the Honors College."
As Lucy moved through the program, her goalsand her accomplishmentsseemed to grow larger with each passing semester. For a while, she imagined that a reasonable career, based on her major, might be as a stockbroker.
"In fact, though, I see it taking me to financial analysis, auditing, maybe business analysiswhich is much better than what I was dreaming about in the beginning. Of course, my real dream would be to end up on the board of directors at NASDAQ!"
Lucy's first job wasin Paris for PriceWaterhouseCoopers, where she completed a summer internship.
" I worked as a financial auditor, dealing with different companies, checking their various financial statements, among other things. I also worked on a very special international financial audit for PWC, who represented the one central bank of Moldaviaa small country near Romania. The Central Bank of Moldavia was PriceWaterhouseCoopers' biggest client, and this bank managed the whole economy of the country. And I got to work with it! Of course I couldn't imagine at fifteen that this would all happen. Now, every year, it seems, I think back and I have to say 'I didn't imagine I would be here in a year, doing this, doing that.' It's like a dream."
After several years in Paris, Lucy moved to San Francisco and earned her California CPA license. She took a position with KPMG for several years before accepting her current job with the Federal Home Loan Bank of San Francisco as assistant vice president for the Financial Reporting Group.
Fluent in three languagesEnglish, Russian, and FrenchLucy has already had a career she never imagined possible. Real dreams. Real plans. Real opportunities.