Joe Lipsitz, '07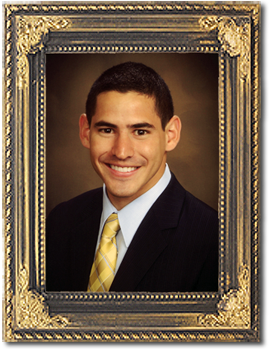 Major:Accounting with Pre-Law concentration

Hometown: Amherst, N.Y.

Since graduating, I have earned CPA (Certified Public Accountant) certification. I am currently pursuing the CFP (Certified Financial Planner) designation.

After graduation, I spent two years working at a public accounting firm in Tucson, Arizona, before moving back home to the suburbs of Buffalo, N.Y. I am thrilled to be working in my ideal job as a CPA and financial planner at L&M Financial Services, my father's business.

While most of us in the HC are fortunate enough to enjoy unique opportunities and travel, the real shaping forces of the HC are the people: your classmates and teachers. Your peers and professors will be among the most capable people you will ever know. You will quickly meet a group of friends in Whitmyre, and you will feel proud (and smart) in calling them your peers. A few short years after graduation, I am not at all surprised at the great successes of my HC friends (in incredible grad schools, jobs, and lives in total).

I will never forget the first paper I drafted for Science Core in the "what does it mean to be human?" unit with Dr. Zanich in my sophomore year. After a full year of core, I had built up my confidence and thought I knew what I was talking about. As it was my first assignment from Dr. Zanich, I worked especially diligently. I got a 50 percent on the paper. With improvements in my work and grades throughout the semester, this was one of the most challenging, enjoyable, and rewarding courses I took. It culminated, as many Core units did, with a hotly debated consensus paper written by the whole class as one.

Accounting is accounting, and it is not for everyone (though it can be much more fun than most people think). To this day though, I have never met an unemployed CPA. Dr. Bradwick and the rest of the accounting faculty make it their priority to prepare students for employment at graduation. Even though most of my classes were in accounting, I still think of the content-classes as supplemental to the Core classes.

The Core curriculum caters well to anyone in any major that requires thought. I think it pairs remarkably well with fields like accounting and IT/MISprofessions to which creative and critical thought bring an especially unique skill set. The HC education provides a higher level of thinking (and writing) skills than employers are likely to find from other graduates.

In entering the professional world at a CPA firm, I was confident in my ability to learn quickly and handle any challenges expected of a new staff. Throughout the interview process, the interviewers were surprised and impressed by the Core curriculum. Every aspect of my life that requires thought has been shaped by how I learned to think at the HC. The HC education works wonders as a foundation for the real world.

List of Majors