Adriane McGraw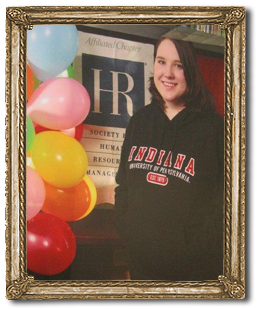 Majors: Human Resources Management and Business Management General
Minor: Economics
Hometown: Imperial, PA
Most Enhancing Experiences while at IUP: During the summer of my freshmen year, I was provided the opportunity to intern in Honolulu, Hawaii, through the RECHC Enhancement Fund Scholarship. This was an amazing opportunity not only for the cultural and educational experiences, but also because it provided me with the confidence to take chances and to pursue my dreams regardless of the obstacles facing me or how crazy it may seem on the surface.
The Eberly College of Business Honors Program enhanced my education at IUP by providing me with a group of students who were as passionate about the field of business as I was, numerous networking opportunities, and the ability to incorporate what I was learning the classroom to real-life applications and projects.
About My Major: As an AACSB accredited college, the Eberly College of Business allowed me to supplement my classroom learning with projects, student-led organizations, networking events, and career-focused activities. As a double major in Human Resources and general management, I learned how to manage projects, inventory, and business processes (i.e., accounting and marketing) while also learning how to recruit, develop, and motivate employees to match the needs of an organization.
HC Impact: The Honors College has inspired me to explore different ways of thinking and to analyze arguments set before me, and provided me the tools to be able to find the information and beliefs that are needed to discover the "truth" in all situations. The fine arts, volunteer, and HC programs developed me as a well-rounded person who is willing to try different things that are outside of my comfort zone and the set of interests I currently hold. The extensive writing and reading assignments that are a part of Core while stressful at timesprovided me the confidence to meet deadlines and gave me a realistic analysis of how long it takes me to do projects. Suddenly, a twenty-page paper didn't seem as scary because I had developed the skills and the ability to approach it strategically. Writing is an ability that will help me throughout any career that I pursue, and for that I am grateful to the HC.