Schedule a Class Visit
Meet our chefs and learn about our program while you and your students enjoy a buffet produced by our culinary and baking students.
Ready to select a date? See our Group Visit Registration Form, or contact us at culinary-arts@iup.edu or by phone at 814-938-8400.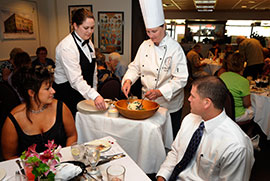 How better to advise your students than to experience Culinary Arts at IUP for yourself?
We will treat you to a delicious four-course menu prepared by our American Cuisine class.
Enjoy a fine dining experience with table service provided by our American Table Service class.
Meet students and faculty.
Take an optional tour.
Summer Dining is offered weekdays in June, July, and the first week of August.