Make a Dining Room Reservation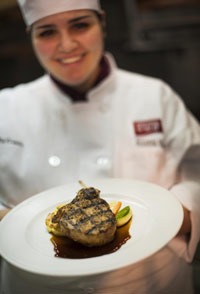 High school teachers and counselors, join us for complimentary gourmet dining!
Space is limited each summer. Please call 814-938-8400 to make a reservation.
How better to advise your students than to experience for yourself the delicious four-course menu prepared by our American Cuisine class and the outstanding service provided by the American Table Service class at IUP's Academy of Culinary Arts?
Our dining room is open most weekdays during the summer.