IUP Digital Host for Theatre Festival
Posted on 1/29/21 10:38 PM
The Department of Theatre, Dance, and Performance at IUP assisted as virtual support for Region 2 of the Kennedy Center-American College Theatre Festival, January 11-15, 2021.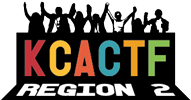 This time hosting was different! For the fourth time since 2010, IUP was invited to host Region 2 of America's national festival of university theater. It had been scheduled to host the in-person Festival 53 in January. The Festival necessarily pivoted to a virtual experience due to COVID-19, and Region 2 leadership asked if IUP could provide the digital meeting backbone for workshops through our Zoom account. IUP information technology and department chairperson Brian Jones provided the means. Eve Urban, senior theater major, became the IUP student volunteer coordinator, scheduling 10 IUP students to host and open IT-supported Zoom rooms for five days of workshops and additional festival events.
Associate Professor Nancy Pipkin-Hutchinson, chair of Design/Technology/Management for Region 2 of KCACTF, organized a re-imagining of the traditional gallery display of students' work into this virtual world. Using her contacts in the professional community, she invited 15 designers, technicians, and stage managers from across the country, including Patreshettarlini Adams (production stage manager, Wilma Theatre), alumna of IUP's theater program, to give workshops, hold Q&A sessions, and respond to students' submitted work.
The Kennedy Center American College Theater Festival is a national theater program involving 18,000 students annually from colleges and universities across the country. KCACTF aims to:
Encourage, recognize, and celebrate the finest and most diverse work produced in university and college theater programs;
Provide opportunities for participants to develop their theater skills and insight, and achieve professionalism;
Improve the quality of college and university theater in the United States; and
Encourage colleges and universities to give distinguished productions of new plays, especially those written by students; the classics, revitalized or newly conceived; and experimental works.