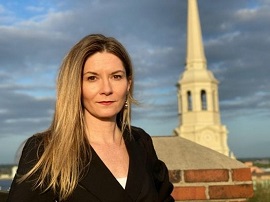 IUP Theatre alumus Kate Quinn (2000) began her new position as the Michener Art Museum's next Executive Director on July 20, 2020.
Chosen by the Museum's distinguished board of trustees, Quinn comes to the Michener from the Penn Museum in Philadelphia where she served since 2008 as Director of Exhibitions and Special Programs and as part of the Executive Team overseeing all planning and operations. She directed many new gallery projects, including new Africa Galleries and the Mexico and Central America Gallery, which opened in November 2019 and was part of an $80 million institutional transformation project.
Quinn began her undergraduate program at IUP in Art, studying with painter Sue Palmisano, then adjusted her focus, painting and designing scenery with Brian Jones for Theater-by-the-Grove as a theatre major. She applied her learning to museum display and quickly found her calling and graduated with an MFA in Museum Exhibition and Design from the University of the Arts in Philadelphia.
The James A. Michener Arts Center opened to the public in 1988. It was later renamed the James A. Michener Art Museum and has evolved from a modest facility with a locally derived mission to an accredited world class-facility with a broad vision. A world-class collection of Pennsylvania impressionist paintings and special exhibitions showcasing a wide range of historical and contemporary work attract annually more than 135,000 visitors from around the world.
About the Department of Theatre, Dance, and Performance
The Department of Theatre, Dance, and Performance is dedicated to theater and dance as collaborative and highly disciplined fine arts. The department includes a Bachelor of Arts degree, a theater minor, and a dance minor. The department has presented more than 150 productions under the auspices of Theater-by-the-Grove and offers a summer theater program for young people called Footlight Players.