Alumna Adams Receives Del Hughes Award for Excellence in Stage Management
Posted on 7/17/20 9:39 PM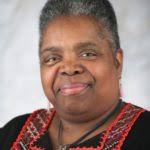 IUP alumna Patreshettarlini "Pat" Adams is one of two national recipients of the Del Hughes award of the Stage Manager's Association. The Del Hughes award is for lifetime achievement in the art of stage management.
Adams has been the resident stage manager at the Wilma Theatre in Philadelphia, Pa. since 1996. Her career has also included landmark Black performing arts events and companies, including Crossroads Theatre, North Carolina's National Black Theater Festival, and Georgia's National Black Arts Festival.
Adams was one of three inaugural recipients of the College of Fine Arts Hall of Distinction award.
According to the Stage Manager's Association website, "The recipients are chosen by the Awards and Recognition Committee and confirmed by the Board of the SMA. These individuals represent the finest qualities of Stage Management: patience, diplomacy, organization, and a sense of humor."
The Wilma Theater has been Adams' "home" for 30 years, where she has practiced her art and formed countless young professionals learning from her. According to publications of the Wilma, the theater inherited its name from the original Wilma Project, which began in 1973 as a feminist collective. They chose to name their theater after an invented sister of Shakespeare. The founders created the fantastical Wilma, a talented sister with a room of her own, and the means and freedom to express herself.
When Blanka and Jiri Zizka took over the Wilma Project, they did not abandon its namesake. The Zizkas' Wilma does not take the status quo as a given. Instead, it constantly strives for new ways of expression and revelation, social relevance, and impact.