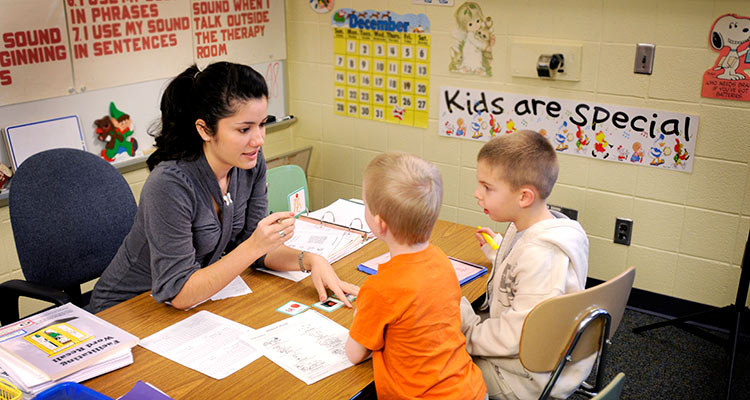 Your Passion to Help Benefits Those with Exceptionalities
Throughout America, millions of children, adolescents, and adults have to cope daily with their learning disabilities, communication and swallowing disorders, emotional and behavioral disorders, hearing loss, intellectual disabilities, physical disabilities, and/or developmental disabilities. It is through special education or speech-language treatment that we meet many of their individualized needs.
While individuals with disabilities are protected by laws, and the government has programs that support them, it's the educators and clinicians who make the difference. If you are passionate about helping those with disabilities, then you are an ideal candidate for the disability services, special education, or speech-language pathology majors at IUP.
Why Disability Services, Special Education, or Speech-Language Pathology?
There are 13 different categories of disabilities under which children are eligible to receive special education: autism, deafness, deaf-blindness, developmental delay, emotional disturbance, hearing impairment, intellectual disabilities, multiple disabilities, orthopedic impairment, other health impairment, specific learning disability, speech or language impairment, traumatic brain injury, and visual impairment, including blindness.
Healthcare organizations also serve these special needs populations, as well as people with impairments due to voice misuse, stroke, Parkinson's disease, head and neck cancer, dementia, and many other conditions.
The World Needs Disability Services, Special Education, and Speech-Language Pathology Majors
People with exceptionalities need special help if they are to develop their highest possible learning outcomes and quality of life potential. But even more importantly, they need to achieve these goals in ways that respect their dignity, culture, language, and background. You can be the person that makes the difference in their lives with an undergraduate degree from IUP.
Expected Outcomes with an Undergraduate Degree in Disability Services, Special Education, or Speech-Language Pathology
IUP offers a unique blend of options with our programs in disability services, early childhood/special education, and speech-language pathology and audiology. With your degree, you will be prepared to help children, adolescents, and adults with disabilities in settings such as schools, hospitals, rehabilitation centers, community agencies, mental health facilities, and group homes.
Prepare to work as a professional, serving disabilities in a wide array of public and private sector agencies and service providers.
Learn best practices for people with disabilities.
Become knowledgeable about services needed for individuals with disabilities in the community with a degree in Disability Services.
Work in real classrooms and gain your teaching certification that will enable you to teach pre-school through fourth grade as well as special education for pre-school through eighth grade.
Take the first step in a career as a speech-language pathologist or audiologist by completing your pre-professional undergraduate degree.
The IUP Difference
Dual Certification. Secondary education majors have an opportunity to complete the Dual Certification–Special Education Grades 7–12 program. This will enable you to work with a wide range of students in both general education and specialized pull-out sessions.
The IUP Faculty. All of our faculty members have worked in the field; in public schools, in mental health programs, in hospitals, and with agencies. They bring their experience and scholarship to the classrooms. There are also no teaching assistants in the department; most classes are taught by full-time professors.
Co-Teaching. Collaboration between general and special education professors benefits the quality of instruction. A few courses are co-taught by professors so you can observe how they do it.