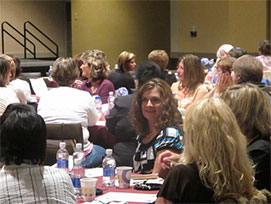 The President's Commission on the Status of Women at IUP previously hosted a conference focused on the personal and professional development of women. The event was cosponsored by Indiana Regional Medical Center's Spirit of Women.
The sixth such conference took place on May 29, 2013, at the Kovalchick Convention and Athletic Complex. Participants had a choice of attending a full day, or just the morning or afternoon session. Both half-day sessions included lunch and the keynote presentation. See the schedule of events.
The theme for this conference was "Women Have Heart," focusing on women's heart health.
The keynote speaker was Amy Nartatez Heinl, a mother of three and IUP alumna who, at age 40, survived a potentially fatal heart condition that struck with no warning signs. Learn more about Heinl's story.
The conference also featured a number of hour-long workshops on diverse topics such as urban gardening, raising your iPhone IQ, mindfulness and meditation, women's self-defense, tai chi, healthy eating, the sandwich generation, office exercise, and financial planning. See descriptions of all of the workshops offered.