Editor's note: this article was submitted by Major Matt Veith, DNP, CRNA, AN, deputy Army chief CRNA and lead clinical instructor, USAGPAN at Brooke Army Medical Center, with the intention of highlighting and sharing the experiences of four alumni in the military while also reflecting on the solid undergraduate education provided by IUP.
A look at four IUP alumni who are actively serving in the United States Army as current and future certified registered nurse anesthetists and commissioned officers.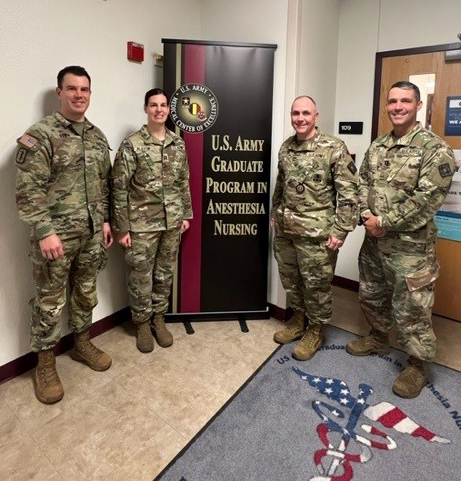 The tall oak trees littered throughout campus serve as a reminder to all who have witnessed the beauty of the roots planted here. Indiana Pennsylvania is a place few may call home, but many consider a beginning. This could not be truer than to the alumni who have also made a commitment to serve our country. Many received their ROTC scholarship through the excellent IUP program. Some attended the university after an initial stint in the military. Others pursued a military career years after graduation. Whatever the path, IUP planted roots of opportunity. Strong, healthy roots, as the oak, which provided the ability to pursue future dreams, goals, and aspirations.
Anesthesia nursing has a rich and storied history. With early practice originating out of necessity during the Civil War era, the profession has now become a staple in modern medicine. Certified registered nurse anesthetists are competent and capable of practicing in a variety of settings. Our nation's military relies heavily on CRNAs to provide excellent, autonomous anesthesia to patients both stateside and in the deployed setting.
Over the years, the occupation has evolved and the education has indeed become more rigorous. From once being a certificate program, to a master's and now a doctoral degree, appropriate strides have been made to ensure the highest standard of care is continuously delivered. It should be noted, however, that the importance of a solid learning foundation cannot be emphasized enough. Exceptional baccalaureate education and nursing experience is critically important in growing the field. IUP nursing exceeds that initial standard.
Col. Steven Kertes, DNP, CRNA (IUP class of 1998) currently serves as the director for the United States Army Graduate Program in Anesthesia Nursing (USAGPAN ) in San Antonio, TX. He is directly responsible for the education and progression of three cohorts of up to 40 nurse anesthesia residents (roughly 120 total residents) per year. His office in San Antonio allows him to directly mentor students during the initial year-long didactic phase located there.
However, his oversight of the program extends well beyond first-year students. The Army also trains second- and third-year residents at eight hospitals/military treatment facilities and Veteran Affairs Medical Centers located throughout the country. These sites include locations in Texas, Tennessee, North Carolina, Washington, Georgia, and Hawaii. Kertes is in frequent, direct contact with clinical site directors at the various locations and makes routine visits to clinically teach those junior and senior residents the hands-on skills needed for graduation and certification.
With such a high level of responsibility, it is no surprise that Kertes has had an incredibly successful career in the Army. The level of trust required by peers, subordinates, and superiors alike to lead such a prestigious program is unrivaled. Over his 23 years, he has been stationed in various locations to include Walter Reed, Honduras, Fort Gordon, Fort Meade, Fort Sam Houston, Fort Knox, and combat deployments in support of Operation Iraqi Freedom—he has held countless leadership positions.
When asked about the advice he would give a current IUP nursing student for future success, he replied, "Stay focused, determined, have fun, and remember to never stop learning. Knowledge is power, and that is achieved through continued learning and education."
Accolades aside, Colonel Kertes vividly remembers his roots, the beginning, during his days as an IUP nursing student. He remembers the beautiful campus, the change of the seasons, the classroom, and the faces of some who would become lifelong friends. Most of all, he is grateful for the outstanding education he received. Without a doubt, an IUP education afforded him countless future opportunities in his pursuit of selfless service and success.
Capt. Luke Scipioni (IUP class of 2013) is just beginning his education and training in the field of anesthesia. After a demanding application process, he is now a first-year resident in the didactic phase of USAGPAN. Some of the requirements for the application include critical care nursing experience, GRE completion, biochemistry/organic chemistry completion, a competitive undergraduate GPA, CRNA shadowing, and a formal interview with clinical leadership.
When asked about the importance of undergraduate education at IUP, he replied, "I didn't realize how my undergraduate performance would follow me throughout my career until I was applying for school nearly 10 years later. I am thankful for the education I received at IUP, and the doors it opened up leading me to where I am today."
Capt. Emma Shirey (IUP graduation class of 2014) is transitioning to her senior year of residency in the program. She has excelled both didactically and clinically and is well on her way to successfully graduating the program. She credits IUP in playing a major role in her achievements thus far.
"Being a student in one of Pennsylvania's top nursing programs while simultaneously being a cadet in IUP's ROTC program teaches you time management, prioritization, discipline, and hard work. Those skills have been instrumental in my success throughout my military career and anesthesia school thus far. Being taught and mentored by exceptional leaders and IUP alumni like Colonel Kertes and Major Veith is just the cherry on top."
Lastly myself, Maj. Matt Veith (IUP class of 2008), recently graduated USAGPAN in 2021. The program was difficult, but the level of training is unmatched. I can whole-heartedly say that the education provided by both IUP and USAGPAN has given me confidence as a leader and the ability to provide outstanding clinical care. It is an honor and privilege to represent our great university of IUP everywhere I go in the world. 
All alumni owe a great deal to this incredible university for helping mold us into intelligent, capable professionals and better overall individuals. We should stand tall and proud as the oaks do in the grove. Remember, those leaves change, fall, and new ones grow, much like the students arriving in August and departing every May. Though, the roots still remain. Solid, planted roots keep them flourishing. Undoubtedly, campus has transformed multiple times over, but the trees here will forever serve as a reminder in the importance of a strong and healthy foundation.