Research and Safety Sciences
Areas of expertise among Safety Sciences faculty members include the following:
safety training
safety management
industrial hygiene
legal issues relating to safety, health, and environmental regulations
ergonomics
emergency preparedness
fire, construction, environmental, and hazardous materials safety
Specific research topics have included human performance in the workplace, workplace fatalities, wind energy safety, Marcellus shale extraction safety, women in the safety field, safety curriculum and training program review.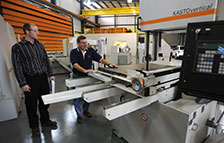 Occupational Health and Safety
The Safety Sciences Department is also home to the Pennsylvania OSHA Consultation Program, which assists private-sector employers in understanding and voluntarily complying with safety and health regulations enforced by the federal Occulational Safety and Health Administration.
It is the officially designated agency in Pennsylvania for providing these consultation services.