Health Care
Departments have done the following research in the health and wellness areas:
Research in this department has involved health-care topics ranging from the expectations, recovery, and predictors of health status in open-heart surgery patients, modifiable cardiovascular risk factors in early adolescence, and the history and changing culture of health care to the impact of hatha yoga on anxiety, balance, fitness, and flexibility of adolescents with autism spectrum disorders.
Faculty members have also researched topics relating to nursing education, including preparing students for certification in nursing education, decreasing test anxiety in practicing nurses, using metacognitive strategies to help students learn, promoting safe clinical placement, fostering supervisory and delegation roles for senior nursing students, and using simulation to enhance learning.
Research among our Food and Nutrition faculty members has included sports nutrition, nutrition for the elderly, career planning for dietetics students, use of technology among nutrition professionals, food and culture, herbal supplements and functional foods, healthy eating in schools, public health, disordered eating, evaluation of nutrition intervention strategies, promotion of fruit and vegetable consumption, implementation of preventive health-care and wellness programs, and healthy cooking.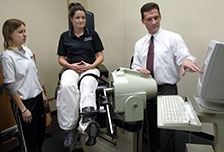 Health and Physical Education Department faculty members have researched topics including medicinal influences of hot-water immersion, aggression and violence in sports, officials' and coaches' physiological responses during events, physical activity in older adults and heart failure patients, safety issues in physical activity, strength and conditioning, risk management and law issues in sports, marketing of sports enterprises and service industries, health status changes among college students, and institutional drug testing.
The department also houses the Center for Health Promotion and Cardiac Disease Prevention, which provides health services and screenings including fitness intervention programs, body composition, lipid panel testing, metabolic analysis, and blood lactate testing.