Energy and Environment
Faculty members across several disciplines are researching issues relating to energy and the environment:
Wind Energy
Specific research topics have included wind energy planning, modeling of potential conflicts between wildlife and wind energy, and assisting communities with development of alternative or renewable energy strengths.
Geographical
Research has included building a geographic information system for acid mine drainage remediation planning and Light Detection and Ranging Technology (LiDAR), a remote sensing method used to collect high-resolution topographical data that is useful in the preparation of permit applications, site design, and remediation efforts.
Mine Mapping
The Institute for Mine Mapping, Archival Procedures, and Safety creates and upkeeps a digital collection of historical mine maps for use by the private and public sectors. IMAPS is in the early stages of developing an online portal that will allow real-time, searchable access to accurate mine maps.
Safety
Research has been done on safety issues as they relate to wind energy, natural gas drilling, and related workforce training.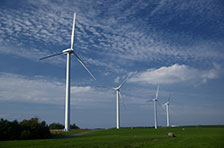 Water Quality
Water quality monitoring has included sample collection and analysis from small creeks and streams as well as from Beaver Run Reservoir. A Web portal for accessing water quality data is being developed. Determining potential effects of acid mine drainage, Marcellus shale wells, and other contaminants on water life is also being researched.
Reclamation of Coal Surface Mines
Topics have included the Forest Reclamation Approach to reforesting coal surface mines and wildlife species that utilize reclaimed minelands.
Wildlife Conservation and Habitats
Research topics have included songbird ecology and conservation, wildlife habitat management and restoration, wildlife-habitat relationships, and the impact of human disturbances on biodiversity. Species studied include the black bear, fishers, Cerulean warbler, golden-winged warbler, Allegheny woodrat, elk, red bat, moose, and roe deer.