Research Strengths in Education
Research strengths in education have included the following areas:
Our Educational and School Psychology faculty members have researched topics including psychopharmacology as it relates to learning and depression; preschool assessment; working with students with Attention Deficit Hyperactivity Disorder, Attention Deficit Disorder, autism, and learning disabilities; curriculum-based assessment; working with the at-risk population; educational programs for low-income children; provision of mental health services in schools; and violence and aggression within educational settings.
Research Centers
Within this area, our Child Study Center focuses on educational and psychological assessments of children with learning and/or behavioral problems, parent consultation concerning educational remediation and treatment of problem behaviors, school consultation, and short-term treatment of learning and behavior problems.
Counseling faculty members have researched topics including community integration of people with physical and psychiatric disabilities, diversity issues in counseling, child and adolescent counseling, working with groups in virtual settings, working with children with ADHD, teaching strategies in counselor education, identification of childhood sexual abuse, professional help-seeking attitutes, and ethical and legal issues in counseling.
The department's Center for Creativity and Change offers a variety of workshops, training programs, and services for professional counselors.
Technology
Research of our educational faculty has included social networking with young children and technology integration into the early elementary curriculum. IUP also has centers devoted to multimedia, simulation, and game technologies that enhance communication; and use of video and blended technologies to support instruction.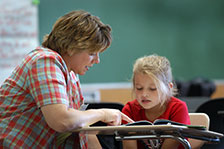 Speech, Language, and Disability
Speech and language topics researched by our faculty members have included child language development and disorders, syntactic development, bilingual language development, and sentence and discourse-level comprehension.
IUP also has a clinic that specializes in the diagnosis and treatment of speech, language, and hearing disabilities.
Research of our Communication Disorders, Special Education, and Disability Services faculty members has included family dynamics when a child has special needs, collaboration between special educators and educational audiologists, curriculum development and teaching strategies, social and behavioral skill development for students with autism, differentiated instruction, and positive behavior support for behavior disorders.