Kelly
A lower cost initially helped attract me to IUP at Northpointe. While we didn't want to sacrifice the quality of instruction my daughter, Rachel, would get, finances still needed to be a factor in choosing her next level of education. Northpointe turned out to be a very affordable choice for the average family.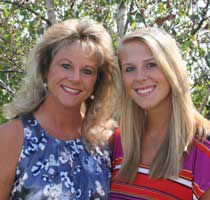 Rachel had her own reasons for enjoying the campus. She liked the support and guidance that all the staff provides, as well as the high-tech learning environment. We both feel Northpointe, which is located in a beautiful setting, gives students the foundation and encouragement they need to succeed toward meeting their goals as university students. Students become more familiar with what a college schedule and college class expectations are so that, when they continue on past Northpointe, they are fully prepared.
While studying for a Nuclear Medicine Technology degree, Rachel has found plenty of ways to be involved on campus, working as a note taker and in the administrative office, and speaking during Discovery Days for prospective students. Despite her busy schedule, she managed to earn a perfect 4.0 her freshman year, thanks in part to the support she received on campus.
During Rachel's year there, I found that, in addition to the obvious cost savings, at Northpointe there is a perfect union between the administrative staff and college campus. You have people in the office who truly are concerned over the well being of your child. I feel comfortable knowing they are knowledgeable, approachable, and accessible to all my child's needs. That, combined with the academic excellence the university provides, makes Northpointe the total package.
Kelly