Bevi
When my daughter, Taylor, graduated from high school, I had the same concern every parent has: I wanted to make sure Taylor made a successful transition to the next stage of her life.
Working two part-time jobs, Taylor was going to have a lot on her plate during her freshman year of college. IUP at Northpointe let her focus her time and financial resources, and allowed me to help her transition into adulthood. As a result, Taylor earned extremely good grades her entire freshman year.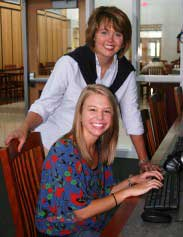 As a parent, I like the "buffer" that Northpointe has provided between childhood and adulthood. Taylor has the freedom to make college friends and be involved in social activities, but we still play an active role in her life since she is commuting to class.
Taylor achieved Dean's List honors her first two semesters at IUP, and I am not sure that she would have performed so well academically with the distractions of living on campus as a freshman. Northpointe has economical advantages as well, since we save on the housing and meal costs that come with living on campus.
Northpointe was a decision both of us could agree on. A Hospitality Management major, Taylor loves to travel and hopes to use the money she saved her freshman year to spend a semester abroad as part of IUP's exchange program. And she also feels the benefits are more than financial. "I've enjoyed the friendships I've made while at IUP Northpointe. I feel that the smaller classrooms and engaging instructors have made the transition from high school to college an easy one," Taylor told me.
I wouldn't hesitate to recommend Northpointe to my friends based on cost savings, experience, and Taylor's personal growth and academic achievement. Northpointe has given Taylor room to "spread her wings" as an adult, but she has had the opportunity to learn to balance a social life, studies, and also two part-time jobs.
This has also given us time to adjust to her new station in life, as we "loosen the reigns" and let her make her own decisions . . . We have watched her grow and mature during her time there.
Bevi Powell