Members of IUP Brass Area Meet with Alumnus Composer O'Toole
On May 3, 2021, brass students from the IUP Department of Music met with composer Anthony O'Toole '11, who was commissioned to write a new work for brass quintet. This work will be premiered by the "Legacy Brass," the department's scholarship brass quintet, as part of their fall 2021 recital, which will be presented on Sunday, December 5, at 3:00 p.m. in Gorell Recital Hall.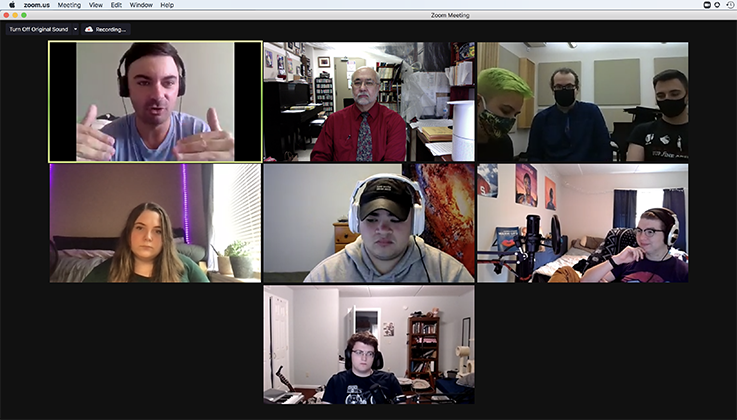 O'Toole discussed his career since graduating (in 2011) from IUP. He shared his approach to writing new music, and encouraged the students to offer thoughts regarding the piece that he will write for the Legacy Brass.
O'Toole holds a BA in music theory and composition from Indiana University of Pennsylvania and a MM of composition from George Mason University, where he was recognized by the university as a distinguished graduate for his achievements as a composer and musician.
Since he began writing in his teens, he has composed more than 120 works over the last 15 years and has written for virtually every major idiom and instrument. His music has been commissioned and performed by musicians and ensembles all around the world. O'Toole's music for wind band has been performed and recorded by some of the finest bands, including the United States Coast Guard Band, the Kansas State University Wind Ensemble, "The President's Own" United States Marine Band, the University of North Texas Wind Symphony, the St. Olaf Band, the Singapore Wind Symphony, the West Point Academy Band, the Alabama Winds, dozens of all-state and festival bands, and many others.
He currently resides in Los Angeles, where he fulfills his commissions for new works and does orchestrations and arrangements as a freelance writer; he also serves as composer-in-residence for the Carson Symphony Orchestra and staff arranger for the Southern California Brass Consortium.