Jazz Festival Guest Artist Meets with IUP Jazz Bands via Zoom
Posted on 4/10/20 9:08 PM
The IUP Jazz Festival had to be canceled because of the coronavirus outbreak. That didn't prevent this year's guest artist, trumpeter Scotty Barnhart, from meeting and interacting with the members of the IUP Jazz Band and Jazz Ensemble.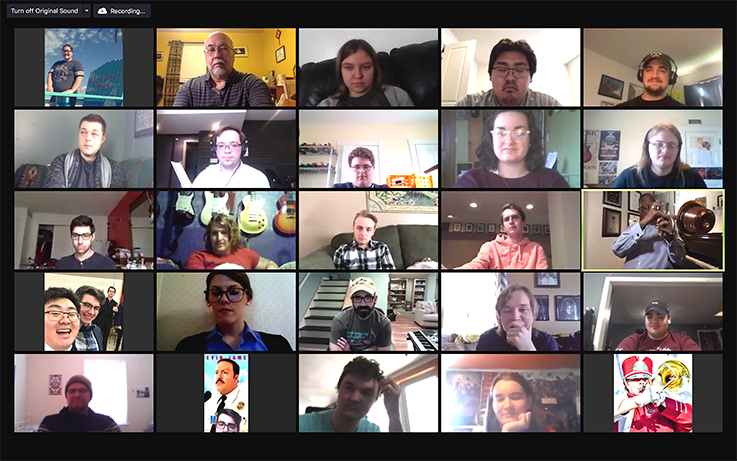 Recently, members of the bands, led by James Flowers and Kevin Eisensmith, met online with Barnhart, who is the director of the Count Basie Orchestra. Barnhart was scheduled to perform on April 18 with both IUP ensembles during the 20th annual IUP Jazz Festival. Barnhart discussed his career, including his 26 years as a member of the CBO (and leader since 2013), and answered questions posed by the students.
Barnhart is the author of The World of Jazz TrumpetA Comprehensive History and Practical Philosophy. This book is the first of its kind in the 100-year history of jazz music and the definitive work on the subject. A second edition of the book is scheduled to be released in the near future.
Barnhart has worked with many luminaries in the jazz world, including Quincy Jones, Herbie Hancock, Aretha Franklin, the Duke Ellington Orchestra, the Lincoln Center Jazz Orchestra, Take 6, Jamie Cullum, Shirley Caesar, George Benson, Lalo Schifrin, Lou Rawls, Nancy Wilson, the Mills Brothers, the Clayton/Hamilton Orchestra, and trumpet masters Clark Terry, Red Rodney, Freddie Hubbard, Jon Faddis, Nat Adderley, Harry "Sweets" Edison, Warren Vache, Snooky Young, and Wynton Marsalis, and played lead trumpet for top stars such as Johnny Mathis, Barry Manilow, Andy Williams, Diana Krall, Natalie Cole, Diane Schuur, and the Temptations.
Barnhart has been invited back to IUP next year to serve as the guest artist for the IUP Jazz Festival, scheduled for May 1, 2021.