Jammin' in the Gym Invites Area Music Students to Join IUP Pep Band
Posted on 1/28/20 3:57 PM
On January 25, 2020, the IUP Department of Music and IUP Athletics worked in conjunction to host the first "Jammin' in the Gym." This event was established as a recruiting opportunity to bring selected high school musicians to IUP, create a day-long musical event centered around Pep Band, and experience the thrill of the combination of IUP music and basketball.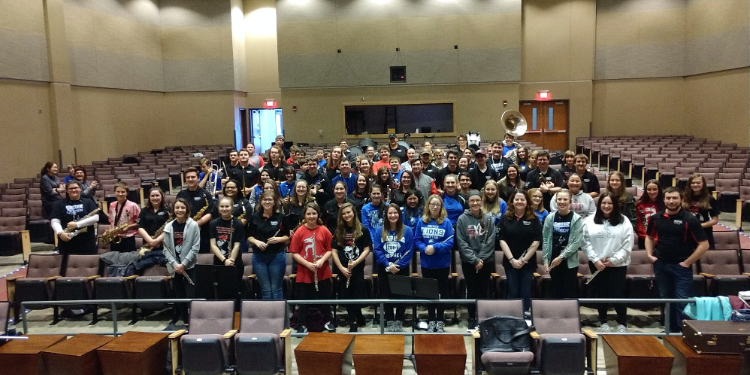 Faculty member Timothy Paul and graduate student Brendan Boyle worked closely with Becky Bouch (Purchase Line Jr/Sr High School) and Luke Hamilton (United High School) to rehearse Saturday afternoon and perform at the women's and men's basketball games as a side-by-side experience with the IUP Pep Band.
This year's group photo includes Purchase Line, United, and the IUP Pep Band. In this inception year, IUP was able to host 53 possible future IUP students, supporters, and fans.
Just another example of how and why IUP is a great place to be!