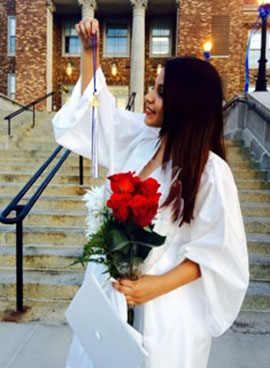 Yanira Cintora Lopez was born in Morolen, Guanajuato, Mexico. She migrated to the U.S when she was just five years old. Her ambition to succeed comes from her father. Although he did not have the opportunity to attend college, he continues to work hard every day and has always been her biggest motivator and supporter.
Growing up in the United States she was able to learn English, Spanish, and French. After graduating from Kennett High School in 2015, she decided to continue her education at Indiana University of Pennsylvania where she is currently pursuing a BA in Criminology with the help of several scholarships.
Yanira is looking forward to the near future, as she hopes to accomplish many things during her time at IUP. One of her main goals for her undergraduate career is to have the opportunity to study abroad. Also, she hopes to learn sign language, and is currently active in the Sign Language Club on campus. After graduation from IUP, she hopes to join the Peace Corps.